E. School Lesson's
Free Online Reading Lessons from MontessoriHome.com
Interactive Websites
Starfall's Learn to Read with phonics
Starfall.com opened in September of 2002 as a free public service to teach children to read with phonics. Our systematic phonics approach, in conjunction with phonemic awareness practice, is perfect for preschool, kindergarten, first grade, second grade, special education, homeschool, and English language development (ELD, ELL, ESL). Starfall is an educational alternative to other entertainment choices for children.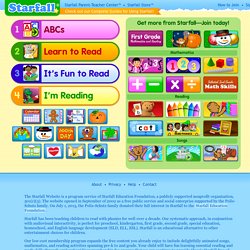 Free Third Grade Lesson Plans – Online Lesson Plans for 3rd Graders – JumpStart
Free Printable Third Grade Worksheets
Welcome to tlsbooks.com. This page features worksheets to help the third grade student with reading and language arts. You'll find a variety of fun third grade worksheets to print and use at home or in the classroom. Our third grade worksheets are intended to enhance your child's skills and introduce new concepts in a fun, stress-free manner. Although these worksheets are appropriate for the third grade student, each child is unique and you may wish to review our second grade and fourth grade worksheets for additional practice materials. You may print any of these third grade worksheets for your own personal (includes printing materials for your classroom), non-commercial use only.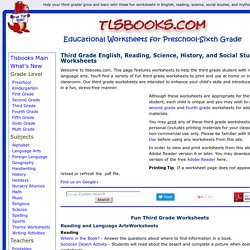 Free Third 3rd Grade Reading Lessons - Homeschool, After School, Elementary School, Summer Study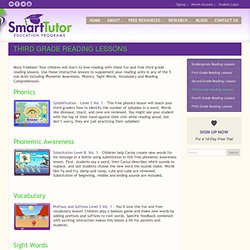 More freebies! Your children will learn to love reading with these fun and free third grade reading lessons. Use these interactive lessons to supplement your reading units in any of the 5 sub-skills including Phonemic Awareness, Phonics, Sight Words, Vocabulary and Reading Comprehension.