E. School Lesson's
Free Online Reading Lessons from MontessoriHome.com
Roy the Zebra Guided Reading and Reading Games with Roy the Zebra. Includes words that rhyme, high frequency words, capital letters, full stops and much more. K-3 R eading Rainbow is designed to encourage a love of books and reading among children ages 4-8. Book Adventure is a FREE reading motivation program for children in grades K-8. Children create their own book lists from over 6,000 recommended titles, take multiple choice quizzes on the books they've read offline, and earn points and prizes for their literary successes.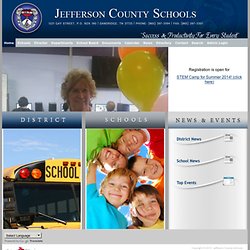 Free Third Grade Lesson Plans – Online Lesson Plans for 3rd Graders – JumpStart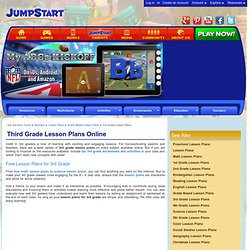 Instill in 3rd graders a love of learning with exciting and engaging lessons. For homeschooling parents and teachers, there are a wide variety of 3rd grade lesson plans on every subject available online. But if you are looking to improve on the resources available, include our 3rd grade worksheets and activities in your class and watch them learn new concepts with ease! From free math lesson plans to science lesson plans , you can find anything you want on the internet. But to make your 3rd grade classes more engaging for the 8 – 9 year olds, ensure that the lesson plans are interactive and allow for some creativity.
Free Printable Third Grade Worksheets
Welcome to tlsbooks.com, where you'll find a variety of free printable third grade worksheets for home and school use. Our third grade worksheets are intended to enhance your child's skills and introduce new concepts in a fun, stress-free manner. Depending on your child's abilities, you may wish to review our second grade and fourth grade worksheets for additional practice materials. In order to view and print our free third grade worksheets, you will need to have Adobe Reader version 6 or later. Click here to update or download the most current version of Adobe Reader. You may print our third grade worksheets for your own personal, non-commercial use only.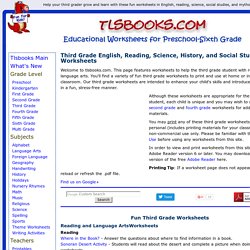 Free Third 3rd Grade Reading Lessons - Homeschool, After School, Elementary School, Summer Study