UU Opinion & Journey Blogs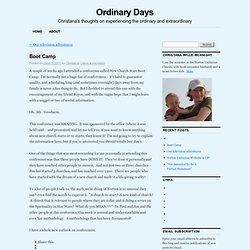 Boot Camp | Ordinary Days
A couple of weeks ago I attended a conference called New Church Start Boot Camp.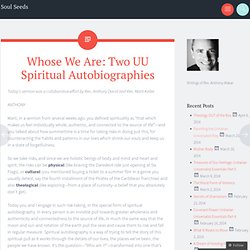 Today's sermon was a collaborative effort by Rev. Anthony David and Rev. Marti Keller.
Whose We Are: Two UU Spiritual Autobiographies « Soul Seeds
Towards a Holy Theatre
Ft. Boise weblog, June, 2011
Habeus corpus The image of the larger-than-life Jesus on the cross behind the altar at Holy Family remains clear in my mind's eye long years after the space was deconsecrated and turned into a gymnasium. We started school with Mass, and you couldn't attend Mass without being confronted with that dominating sculpture.
Spirituality and Sunflowers | Matt Kinsi's guide to Unitarian Universalism, spirituality, Millennials and the Quarter-Life Crisis
Seeking Divinity
City of Refuge
It's Maggie not Megan
Syracusan in Seattle
Boy in the Bands - Scott Wells on the practice of Christian faith