Green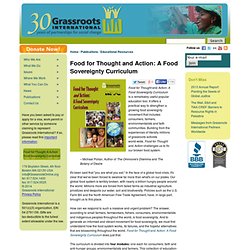 Food for Thought and Action: A Food Sovereignty Curriculum is a remarkably useful popular education tool. It offers a practical way to strengthen a growing food sovereignty movement that includes consumers, farmers, environmentalists and faith communities. Building from the experiences of literally millions of grassroots activists world-wide, Food for Thought and Action challenges us to fix our broken food system. – Michael Pollan, Author of The Omnivore's Dilemma and The Botany of Desire It's been said that "you are what you eat." In the face of a global food crisis, it's clear that we've been forced to swallow far more than what's on our plates. Our global food system is terribly broken, with nearly a billion hungry people around the world.
Food for Thought and Action: A Food Sovereignty Curriculum | Grassroots International
The World That Can Be/New Future
Env Policy & Conservation
Faith, Art and Farming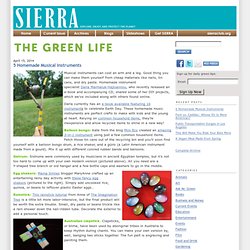 The Green Life: Tips for living well and doing good from Sierra magazine
For Green Lifers seeking to align their career compass, we've dedicated this week to profiling different eco-professions. Yesterday we learned about environmental journalism . If you took our quiz on Monday and scored mostly b's, then read below to learn more about urban farming, your green career fit. Green Careers: Urban Farming Urban farmers grow, process, and distribute food in or around a city, allowing its residents easy access to fresh, seasonal produce. Some farmers raise animals, such as chickens or fish.
Healthy Schools Campaign
Indigenous Environmental Issues
OurWorld 2.0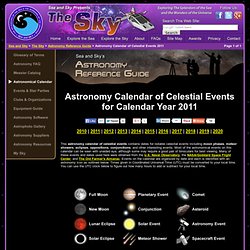 January 3, 4 - Quadrantids Meteor Shower. The Quadrantids is an above average shower, with up to 40 meteors per hour at its peak. It is thought to be produced by dust grains left behind by an extinct comet known as 2003 EH1, which was discovered in 2003. The shower runs annually from January 1-5. It peaks this year on the night of the 3rd and morning of the 4th.
Astronomy Calendar of Celestial Events 2011 - Sea and Sky
Stop Junk Mail, Block Unsolicited Mail, Opt-out of Unwanted Mail | Catalog Choice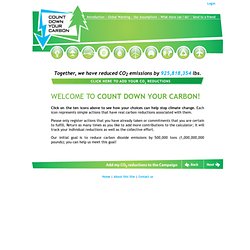 Together, we have reduced CO 2 emissions by 925,578,785 lbs. Click on the ten icons above to see how your choices can help stop climate change. Each icon represents simple actions that have real carbon reductions associated with them. Please only register actions that you have already taken or commitments that you are certain to fulfill. Return as many times as you like to add more contributions to the calculator; it will track your individual reductions as well as the collective effort.
Count Down Your Carbon