Green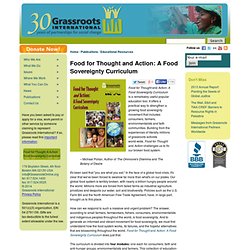 Food for Thought and Action: A Food Sovereignty Curriculum is a remarkably useful popular education tool. It offers a practical way to strengthen a growing food sovereignty movement that includes consumers, farmers, environmentalists and faith communities. Building from the experiences of literally millions of grassroots activists world-wide, Food for Thought and Action challenges us to fix our broken food system.– Michael Pollan, Author of The Omnivore's Dilemma and The Botany of Desire It's been said that "you are what you eat." In the face of a global food crisis, it's clear that we've been forced to swallow far more than what's on our plates. Our global food system is terribly broken, with nearly a billion hungry people around the world.
Food for Thought and Action: A Food Sovereignty Curriculum | Grassroots International
The World That Can Be/New Future
Env Policy & Conservation
Faith, Art and Farming
My girls, my girls! They are soooo ready to kid! Their kiddos are going to be available soon, stay tuned…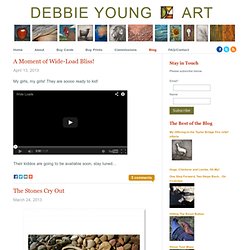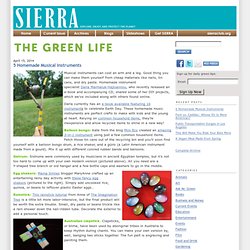 The Green Life: Tips for living well and doing good from Sierra magazine
Spring is upon us, and with it come asparagus, beets, artichokes, and citrus fruits. Here are three fantastic dishes using the best that spring has to offer. Try them together for a vegan meal that'll even have carnivores begging for seconds. Starter: Shaved asparagus salad This spring-inspired salad from Sunny Vegan blogger Amanda is crisp, light, and quick (no cooking required). Makes 4 servings
Healthy Schools Campaign
We all know the adage about an ounce of prevention being worth a pound of cure, and in the case of air quality in schools, it may be even more than that. Dave Blake and Rich Prill, two Indoor Environmental Quality experts based in the Pacific Northwest, focus on ensuring schools have the tools they need to put that idea into action by ensuring that schools are safe and sustainable, with air free of contaminants and irritants. Students miss about 12.8 million school days annually because of asthma and asthma-related issues, adding another layer of importance to the already vital need for clean air and proper ventilation in schools. Blake, of the Northwest Clean Air Agency over in Mt. Vernon, Wash., and Prill, a Building Science and IEQ Specialist based in Spokane, Wash., will be leading an "Indoor Air Quality Walkthrough" Webinar on February 26 at 1:30 p.m. EST, part of the Environmental Protection Agency's "Tools for Schools" educational webinar series.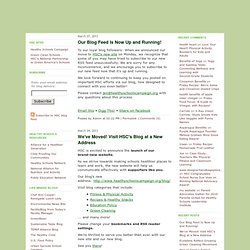 Indigenous Environmental Issues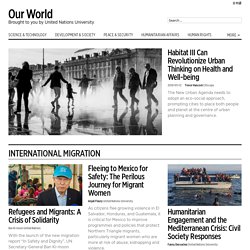 OurWorld 2.0
Greenland's Icecap Loses Stability New research finds melting of Greenland's 600 kilometre-long Zachariae ice stream is accelerating and thus its contribution to sea level rise has been under-estimated. United Nations Security Council 101 This first article in a series aimed at providing readers with an understanding of the UN Security Council offers a fundamental look at the origins, powers, instruments and activities of this premier forum in international politics. Oil, War and the Future Prospects for Peace
Astronomy Calendar of Celestial Events 2011 - Sea and Sky
Stop Junk Mail, Block Unsolicited Mail, Opt-out of Unwanted Mail | Catalog Choice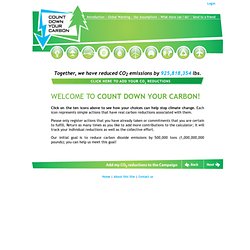 Together, we have reduced CO2 emissions by 925,818,354 lbs. Click on the ten icons above to see how your choices can help stop climate change. Each icon represents simple actions that have real carbon reductions associated with them. Please only register actions that you have already taken or commitments that you are certain to fulfill. Return as many times as you like to add more contributions to the calculator; it will track your individual reductions as well as the collective effort.
Count Down Your Carbon