Ethical Eating
World Food Day 2011 and Week of Action - US Food Sovereignty Alliance. ECHO - Home. 2011 Churches Week of Action on Food. Here is a list of actions that EAA members have carried out during the 2011 Food Week of Action.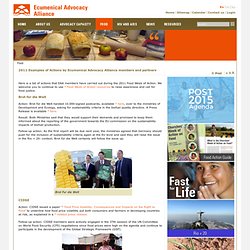 We welcome you to continue to use Food Week of Action resources to raise awareness and call for food justice. Brot für die Welt Action: Brot für die Welt handed 10.000-signed postcards, available here, over to the ministries of Development and Ecology, asking for sustainability criteria in the biofuel quality directive. Just Food Exhibit. Central Appalachian Network: Rural, Environmentally-sustainable Economic Development. Roots of Change | State Food Policy Council - Home.
Community Farming - Everywhere. Ethical Food in Schools. Slow Food International - Good, Clean and Fair food. Ethical Eating: Food and Environmental Justice CSAI. Ethical Eating: Produce. Waking up is hard to do.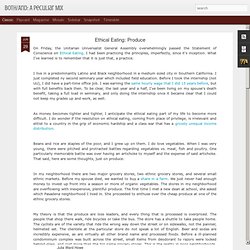 I awoke from a seminarian nightmare. Perhaps it was simply a school nightmare. I dreamed that I needed to finish four classes to complete my b.a. in order to complete my divinity degree. The Ethical Eating Project - Overview. First some background: at the Unitarian Universalist General Assembly, we passed a Statement of Conscience on Ethical Eating.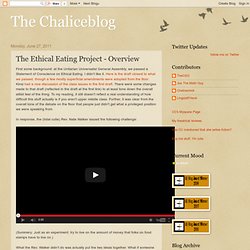 I didn't like it. Here is the draft closest to what we passed, though a few mostly superficial amendments were adopted from the floor. Kinsi had a nice discussion of the class issues in the first draft. There were some changes made to that draft (reflected in the draft at the first link) to at least tone down the overall elitist feel of the thing. Learning About Ethical Eating. Rev.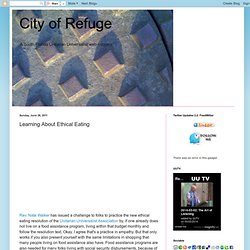 Nate Walker has issued a challenge to folks to practice the new ethical eating resolution of the Unitarian Universalist Association by, if one already does not live on a food assistance program, living within that budget monthly and follow the resolution text. Okay, I agree that's a practice in empathy. But that only works if you also present yourself with the same limitations in shopping that many people living on food assistance also have. Food assistance programs are also needed for many folks living with social security disbursements, because of their limited ssi & ssdi (another unethical situation – how is it that "social security" doesn't allow for a minimal standard of living in accordance with basic human dignity?). If you live with food restrictions, too, don't forget you don't get off them during this little project.
Joyful Vegan
Mindful Eating.
---