Disability Rights
Disability benefit reforms: 'It's about more than the cuts, and more than the Paralympics' | Society. Sophie ChristiansenParalympian, British equestrian team, gold medal winner I do think attitudes towards disabled people have changed for the better since the Paralympics, but now, with the whole "benefit scroungers" thing and the further away we get from the Games, the more negativity is creeping in.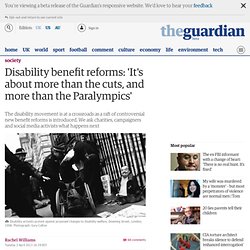 There's a gap between the way people view Paralympians and other disabled people. I'm trying to bridge that gap, because the public need to realise just how disability affects day-to-day life. Paralympians are not superhuman – they are normal people with the same challenges; challenges which should be highlighted. Lives Worth Living | Documentary about the Disability Rights Movement | Independent Lens. Kat's Cafe - Where Special Needs Connections are Made | Parenting special needs | special needs writing | special needs expressions | & so much more. Why Is Disability Missing From the Discourse on Diversity? - Diversity in Academe. September 25, 2011 Randy Lyhus for The Chronicle Enlarge Image By Lennard J.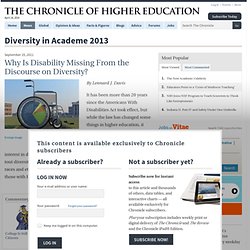 Davis It has been more than 20 years since the Americans With Disabilities Act took effect, but while the law has changed some things in higher education, it hasn't changed the way academic culture regards people with disabilities. Disabling Imagery? | Ways of thinking about disability: The History of attitudes to disabled people | Learning resources. ProfHacker. Welcome to the latest installment of "Accessibility in a Digital Age," a roundup of links to information about creating and using digital resources that are accessible to all people.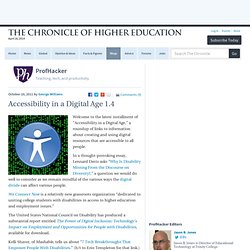 In a thought-provoking essay, Lennard Davis asks "Why Is Disability Missing From the Discourse on Diversity? ," a question we would do well to consider as we remain mindful of the various ways the digital divide can affect various people. We Connect Now is a relatively new grassroots organization "dedicated to uniting college students with disabilities in access to higher education and employment issues." TASH | Equity, Opportunity and Inclusion for People with Disabilities. National Disability Rights Network. The Council for Disability Rights. Enable - Work of the United Nations for Persons with Disabilities. Fund on Disability.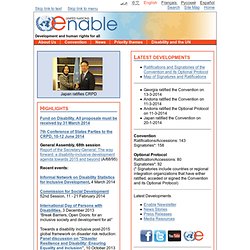 All proposals must be received by 31 March 2014 7th Conference of States Parties to the CRPD, 10-12 June 2014 General Assembly, 68th sessionReport of the Secretary-General: The way forward: a disability-inclusive development agenda towards 2015 and beyond (A/68/95) Recent events: Disabled Community. ADAPT: Welcome to ADAPT! Disability.gov: Connecting the Disability Community to Information & Opportunities.
---