Congregational Resources
Home Page » Leadership Network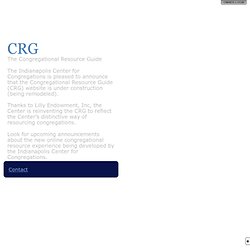 Congregational Resource Guide
Farewell from the Congregational Resource Guide The Alban Institute and the Indianapolis Center for Congregations announce that the Congregational Resource Guide (CRG) website, as we knew it, is now inactive. Both organizations are already working on new resource options for congregations. The Alban Institute is mining archived material from the CRG so that the material can continue to help congregations. The Indianapolis Center for Congregations is reinventing the CRG to reflect the Center's distinctive way of resourcing congregations. The CRG was created in 2000 as a joint project of Alban and the Center for Congregations, with funding from Lilly Endowment Inc.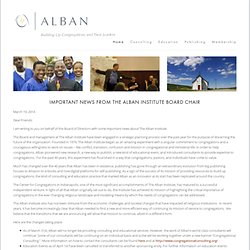 Rowman & Littlefield of Lanham, MD and the Alban Institute of Herndon, VA announced this morning that Rowman & Littlefield has acquired the book program of the Alban Institute effective January 3, 2014. Tired of Snow and Sleet? Head for Sun and Sand! Take a Winter Learning Break!
Alban - Building Up Congregations and Their Leaders
Effective Church Strategies | 21st Century Strategies, Inc.