Bill Brandt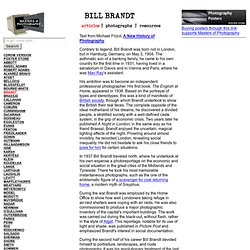 Text from Michael Frizot, A New History of Photography Contrary to legend, Bill Brandt was born not in London, but in Hamburg, Germany, on May 3, 1904. The asthmatic son of a banking family, he came to his own country for the first time in 1931, having lived in a sanatorium in Davos and in Vienna and Paris, where he was Man Ray 's assistant. His ambition was to become an independent professional photographer. His first book, The English at Home , appeared in 1936.
Bill Brandt
Text from Bill Brandt: Behind the Camera Although Bill Brandt's career began, decisively, with his close-up portrait of Ezra Pound in 1928, his subject in the 30's was the social portrait and the urban setting. An exception is a dramatic head of his brother Rolf, lit in the style of expressionist cinema, from the mid-30's. Brandt's portraiture flowered in the 40's. Its hallmarks are seriousness, reticence and, despite some spectacular exceptions, a circumambience perhaps best described In the words of Elizabeth Bowen: "a tense bright dusk." Brandt portrayed artists and thinkers thoughtfully and in isolation.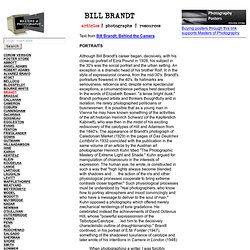 Bill Brandt
Bill Brandt part4
Bill Brandt part3
Bill Brandt part2
Bill Brandt part1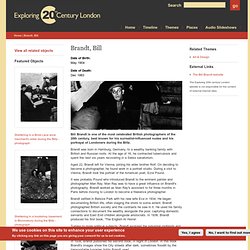 Bill Brandt is one of the most celebrated British photographers of the 20th century, best known for his surrealist-influenced nudes and his portrayal of Londoners during the Blitz. Brandt was born in Hamburg, Germany, to a wealthy banking family with British and Russian roots. At the age of 16, he contracted tuberculosis and spent the next six years recovering in a Swiss sanatorium.
Brandt, Bill - Exploring 20th Century London
Bill Brandt Works Online Categorized & Annotated Commercial Galleries: Galleries: We invite you to register and list your site (no charge for this service) Original works by Bill Brandt available for purchase at art galleries worldwide Museums and Public Art Galleries Worldwide: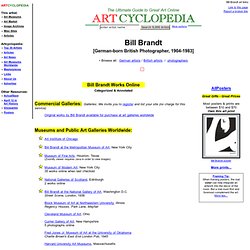 Bill Brandt Online
Bill Brandt (born Hermann Wilhelm Brandt , 2 May 1904 – 20 December 1983 [ 1 ] ), was a German- British photographer and photojournalist . Although born in Germany, Brandt moved to England, where he became known for his high-contrast images of British society , his distorted nudes and landscapes , and is widely considered to be one of the most important British photographers of the 20th century. [ 2 ] [ edit ] Career and life Born in Hamburg , Germany , son of a British father and German mother, Brandt grew up during World War I , during which his father, who had lived in Germany since the age of five, was interned for six months by the Germans as a British citizen. [ 3 ] Brandt later disowned his German heritage and would claim he was born in South London. [ 4 ] Shortly after the war, he contracted tuberculosis and spent much of his youth in a sanatorium in Davos, Switzerland . [ 5 ] He traveled to Vienna to undertake a course of treatment for tuberculosis by psychoanalysis .
Bill Brandt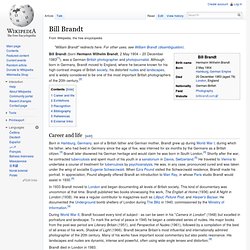 Bill Brandt Home Page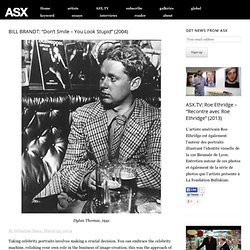 BILL BRANDT: "Don't Smile – You Look Stupid" (2004
Dylan Thomas, 1941 By Sebastian Smee, March 22, 2004 Taking celebrity portraits involves making a crucial decision. You can embrace the celebrity machine, relishing your own role in the business of image-creation; this was the approach of Cecil Beaton and he handled the task more deftly than almost anyone, as the crowds at the National Portrait Gallery for the current Beaton exhibition (2004) know.