Overview
3. Types of Photography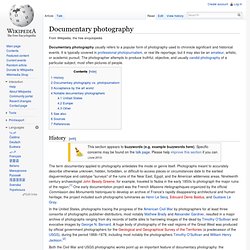 Documentary photography
Documentary photography usually refers to a popular form of photography used to chronicle significant and historical events. It is typically covered in professional photojournalism , or real life reportage, but it may also be an amateur , artistic, or academic pursuit. The photographer attempts to produce truthful, objective, and usually candid photography of a particular subject, most often pictures of people.
Charlie Haughey was drafted into the US Army in October of 1967. He was 24, and had been in college in Michigan before running out of money and quitting school to work in a sheet metal factory. The draft notice meant that he was to serve a tour of duty in Vietnam, designated a rifleman, the basic field position in the Army. After 63 days in Vietnam, he was made a photographer, shooting photographs for the Army and US newspapers, with these instructions from the Colonel: "You are not a combat photographer. This is a morale operation. If I see pictures of my guys in papers, doing their jobs with honor, then you can do what you like in Vietnam."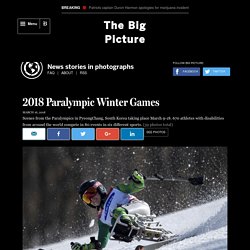 published the book "How The Other Half Lives", in which he revealed the life of New-York slums. Their photos became the material evidence of social injustice and the cause of the reforms the society needed. To show the injustice of the world and to act so that the situation would be changed to the best. That was the aim of the photojournalists, who created an international cooperative agency " Magnum " after the World War II, in 1947 in Paris. Its founders were such acknowledged masters of documentary photography as Robert Capa , David Seymour , George Rodger and Henri Cartier-Bresson . Now it has expanded with four editorial offices in New York, London, Paris and Tokyo, and a network of fifteen sub-agents.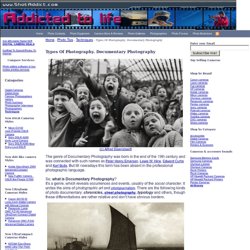 More About Documentary Photography
Portrait photography
Candid portrait of a little girl. Portrait photography or portraiture is photography of a person or group of people that displays the expression, personality, and mood of the subject. Like other types of portraiture , the focus of the photograph is usually the person's face, although the entire body and the background or context may be included. [ edit ] History Portrait photographs have been made since virtually the invention of the camera . The relatively low cost of the daguerreotype in the middle of the 19th century and the reduced sitting time for the subject, though still much longer than now, led to a general rise in the popularity of portrait photography over painted portraiture.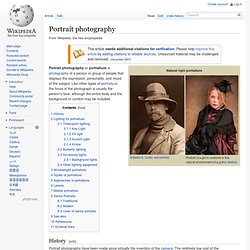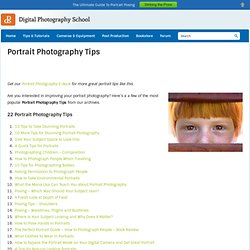 Daily Digest Each day we send out a quick email to thousands of DPS readers to notify them of updates. This email is just short excerpt of the first few lines of our latest post with a link if you want to read it all. You can unsubscribe from this this service at any time. This service is provided by a third party (Feedburner) and you can subscribe to it by leaving your email address in the following field and confirming your subscription when you get an email asking you to do so.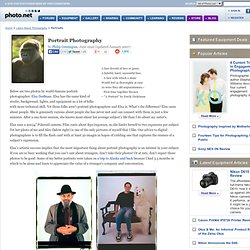 Portrait Photography guide and tips from Photo.net
A face devoid of love or grace, A hateful, hard, successful face, A face with which a stone Would feel as thoroughly at ease As were they old acquaintances,-- First time together thrown. -- "A Portrait" by Emily Dickinson Below are two photos by world-famous portrait photographer: Elsa Dorfman . Elsa has the same kind of studio, background, lights, and equipment as a lot of folks with more technical skill.
Child Photography Tips
"The ever changing subject. They just grow up too quick." Child photography is one of the most rewarding fields of photography.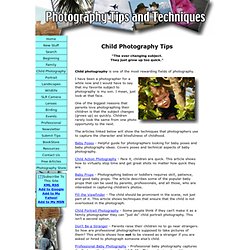 Wedding photography
A 1942 wedding with bride in traditional long white wedding dress. Wedding photography is the photography of activities relating to weddings . It encompasses photographs of the couple before marriage (for announcements, portrait displays, or thank you cards) as well as coverage of the wedding and reception (sometimes referred to as the wedding breakfast in non-US countries).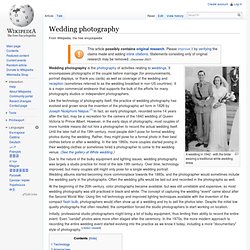 "Help me – I'm photographing my first Wedding!… Help me with some Wedding Photography Tips Please!" It's a question that's been asked a few times in our forums over the last few months so while I'm not a Pro Wedding Photographer I thought it was time to share a few tips on the topic of Wedding Photography . I'll leave the technical tips of photographing a wedding to the pros – but as someone who has been asked to photograph numerous friends and family weddings – here are a few suggestions. Wedding Photography Tips 1.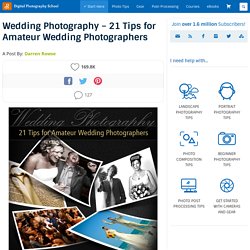 2. FIlm & Digital, How it Works.