Overview
3. Types of Photography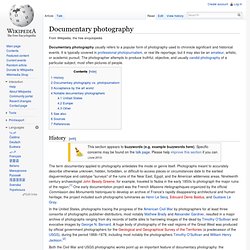 Documentary photography
Documentary photography usually refers to a popular form of photography used to chronicle significant and historical events. It is typically covered in professional photojournalism, or real life reportage, but it may also be an amateur, artistic, or academic pursuit. The photographer attempts to produce truthful, objective, and usually candid photography of a particular subject, most often pictures of people.
The winners have been named in the 2013 National Geographic Photography contest. As a leader in capturing our world through brilliant imagery, National Geographic sets the standard for photographic excellence. Professional photographers and amateur photo enthusiasts from over 150 countries submitted more than 7000 entries. Photographs were entered in three categories: people, places and nature. The competition was judged on creativity and photographic quality by a panel of experts comprising of National Geographic magazine Senior Photo Editor Susan Welchman; and documentary photographers Stephanie Sinclair and Ed Kashi. View the winning images and honorable mentions here.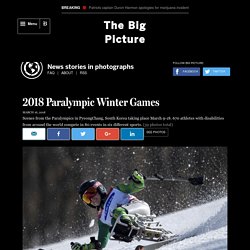 Portrait photography
Natural light portraiture Portrait of a girl in costume in the natural environment of a gothic festival. Portrait photography or portraiture is photography of a person or group of people that displays the expression, personality, and mood of the subject. Like other types of portraiture, the focus of the photograph is usually the person's face, although the entire body and the background or context may be included. History[edit] Portrait photographs have been made since virtually the invention of the camera.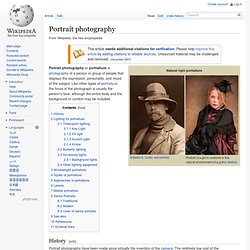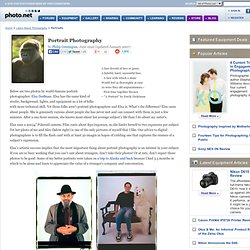 Portrait Photography guide and tips from Photo.net
A face devoid of love or grace, A hateful, hard, successful face, A face with which a stone Would feel as thoroughly at ease As were they old acquaintances,-- First time together thrown. -- "A Portrait" by Emily Dickinson Below are two photos by world-famous portrait photographer: Elsa Dorfman. Elsa has the same kind of studio, background, lights, and equipment as a lot of folks with more technical skill.
Child Photography Tips
"The ever changing subject. They just grow up too quick." Child photography is one of the most rewarding fields of photography.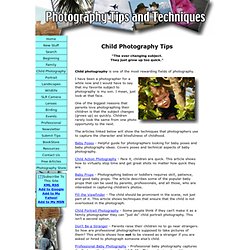 Wedding photography
A wedding in 1942 - with the bride wearing a traditional white wedding dress Wedding photography is the photography of activities relating to weddings. It encompasses photographs of the couple before marriage (for announcements, portrait displays, or thank you cards) as well as coverage of the wedding and reception (sometimes referred to as the wedding breakfast in non-US countries).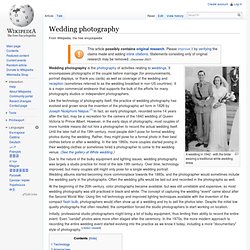 A Post By: Darren Rowse "Help me – I'm photographing my first Wedding!… Help me with some Wedding Photography Tips Please!" It's a question that's been asked a few times in our forums over the last few months so while I'm not a Pro Wedding Photographer I thought it was time to share a few tips on the topic of Wedding Photography. I'll leave the technical tips of photographing a wedding to the pros – but as someone who has been asked to photograph numerous friends and family weddings – here are a few suggestions. Wedding Photography Tips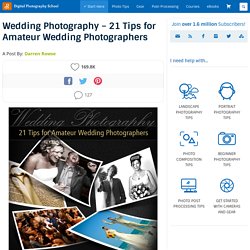 2. FIlm & Digital, How it Works.