Recruiting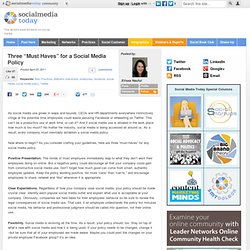 As social media use grows in leaps and bounds, CEOs and HR departments everywhere instinctively cringe at the potential time employees could waste perusing Facebook or retweeting on Twitter. This can't be a productive use of work time, or can it? And if social media use is allowed in the work place, how much is too much? No matter the industry, social media is being accessed all around us.
Three "Must Haves" for a Social Media Policy
Social Networking for Business
Best Practices for Engaging With Consumers Through Social Media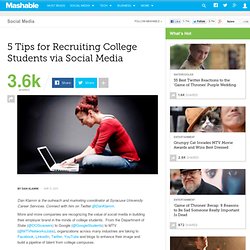 Dan Klamm is the outreach and marketing coordinator at Syracuse University Career Services. Connect with him on Twitter @DanKlamm. More and more companies are recognizing the value of social media in building their employer brand in the minds of college students. From the Department of State (@DOScareers) to Google (@GoogleStudents) to MTV (@MTVNetworksJobs), organizations across many industries are taking to Facebook, LinkedIn, Twitter, YouTube and blogs to enhance their image and build a pipeline of talent from college campuses.
5 Tips for Recruiting College Students via Social Media
10 Considerations When Creating a Social Media Policy
More and more companies are adopting the Nike philosophy of 'Just Do It' when it comes to social media. And while there is value in jumping in the water, companies and organizations are increasingly seeing the need for a social media policy that will help employees understand how these tools should be used on behalf of their employer. If your company or organization is considering creating a formal social media policy, here are 10 areas to consider: 1 – Defining what 'Social Media' is to your business. You can ask 10 different people what the term 'social media' means, and gets 10 different definitions. Your employees are no different, you need to define exactly what sites/tools/etc fall under the 'social media' umbrella for the purposes of your policy.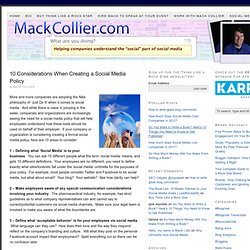 HOW TO: Optimize Your LinkedIn Company Profile for Recruiting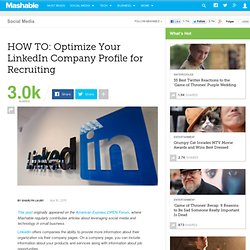 This post originally appeared on the American Express OPEN Forum, where Mashable regularly contributes articles about leveraging social media and technology in small business. LinkedIn offers companies the ability to provide more information about their organization via their company pages. On a company page, you can include information about your products and services along with information about job opportunities. This is a relatively new feature, relaunched back in November 2010. Several Fortune 500 companies were part of the launch of this new feature including Dell, Eastman Kodak, JetBlue and Microsoft.
The Rules of Social Media Engagement Brian Solis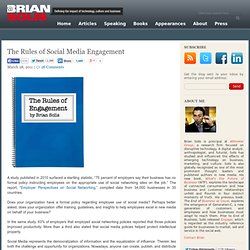 inShare1,645 A study published in 2010 surfaced a startling statistic, "75 percent of employers say their business has no formal policy instructing employees on the appropriate use of social networking sites on the job." The report, "Employer Perspectives on Social Networking," compiled data from 34,000 businesses in 35 countries. Does your organization have a formal policy regarding employee use of social media? Perhaps better asked, does your organization offer training, guidelines, and insights to help employees excel in new media on behalf of your business?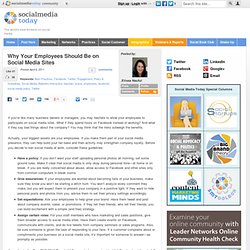 Why Your Employees Should Be on Social Media Sites
If you're like many business owners or managers, you may hesitate to allow your employees to participate on social media sites. What if they spend hours on Facebook instead of working? And what if they say bad things about the company?
untitled
Campbell Mithun, an agency founded in Minneapolis in 1933 that is part of the , is to announce on Friday the names of the six young people who have been chosen to intern there this summer. For the first time in the six years that the intern program has been offered, agency executives turned to a nontraditional method of accepting and assessing applications. The intern search was conducted through , which applicants were asked to use to make their cases of why they wanted one of the six paid internships in four areas: account management, creative, media and technology. The internships are to begin on June 6 and run for 10 weeks. In honor of the favorite number of a Campbell Mithun founder, Ray Mithun, the competition is known as the Lucky 13 .