Online Video
Get flash to fully experience Pearltrees
Youtube – You know that site with videos and all.
Online video viewing is on the rise around the world. In the US, eMarketer estimates 158.1 million internet users will watch video online at least monthly in 2011, up from 145.6 million last year. And at least one in five web users across the US, UK, Australia, Brazil, Germany, Italy and Spain told Accenture in March 2011 they were watching more video on desktop and laptop computers than a year earlier. The survey found that convenience is the key to online video viewing around the globe. Two in five internet users surveyed said the ability to catch up with episodes by pausing and watching at their leisure was the most important feature of online video. Another 24% said being able to use online video like a personal video recorder was the top feature.
Posted by Shelly Kramer on April 5, 2011 · 5 Comments People. Love. Video. Not yet sure you're buying it?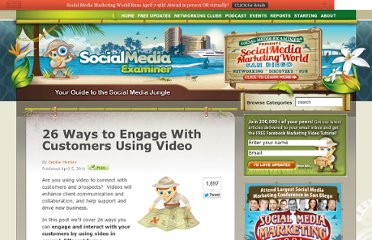 Are you using video to connect with customers and prospects? Videos will enhance client communication and collaboration, and help support and drive new business. In this post we'll cover 26 ways you can engage and interact with your customers by using video in several different forms . Like its predecessors in the five A-Z guides published here on Social Media Examiner— Twitter, Facebook , LinkedIn , blogs and Lead Generation —we'll cover a lot of territory and introduce solutions to give you ideas about where you may want to spend time exploring video options for your business. A to Z Guide to Using Video #1: Apple's FaceTime
Sometimes it's just nice to create some great looking videos. Like the kind of videos that Apple creates – yeah those ones with the beautiful pure white backgrounds with superb clarity! Somehow, having a nice clear and clean white background just makes your video look so much more professional. Today's video shows how to pull it off on a reasonably affordable budget . I show you what I use, and then I also talk about some other even more affordable options.