Useful Web Tools
Domain Name Lookup, Domain Whois | DomainTools. Free online network tools - traceroute, nslookup, dig, whois lookup, ping - IPv6. How to Open God Mode on Windows 8, 7 & Vista. How To Become A Hacker. Copyright © 2001 Eric S.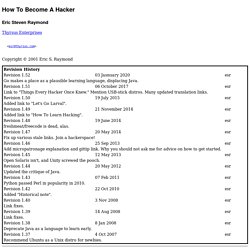 Raymond As editor of the Jargon File and author of a few other well-known documents of similar nature, I often get email requests from enthusiastic network newbies asking (in effect) "how can I learn to be a wizardly hacker? ". Back in 1996 I noticed that there didn't seem to be any other FAQs or web documents that addressed this vital question, so I started this one. A lot of hackers now consider it definitive, and I suppose that means it is. Still, I don't claim to be the exclusive authority on this topic; if you don't like what you read here, write your own. How to Open God Mode on Windows 8, 7 & Vista.
An Incredible Way to Reveal Passwords Behind Asterisks. If you use a lot of online services it also means that you have got a lot of passwords and usernames to remember.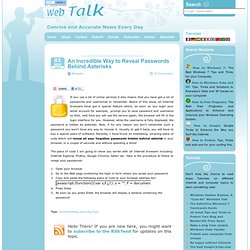 Aware of this issue, all Internet browsers have got a special feature which, as soon as you login your email account for example, prompt you to save password and username so that, next time you will use the service again, the browser will fill in the login interface for you. However, while the username is fully displayed, the password is hidden by asterisks. Now, if for any reason you don't remember such a password you won't have any way to recover it.
Usually, to get it back, you will have to buy a special piece of software. Recently, I have found an interesting, amazing piece of code which will reveal all your forgotten passwords hidden behind asterisk in your browser…in a couple of seconds and without spending a dime!
---