Sharepoint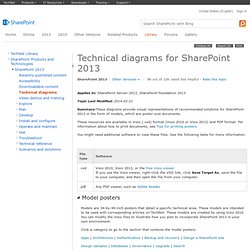 Updated: November 19, 2013 Summary: These diagrams provide visual representations of recommended solutions for SharePoint 2013 in the form of models, which are poster-size documents. Applies to: SharePoint Foundation 2013 | SharePoint Server 2013 These resources are available in Visio (.vsd) format (Visio 2010 or Visio 2013) and PDF format. For information about how to print documents, see Tips for printing posters.
SharePoint Team Blog
See also: » SharePoint 2007 Design Articles and Info The following CSS reference guide highlights the major styles used in MOSS and WSS v3 sites. The guide is organized by area of the page and include the style name, function, CSS file name and approximate line number and a sample screenshot of the style location on the screen. Additionally, there is a "Copy to Clipboard" function that will copy the source code for the style to your client machine's clipboard for use in your own CSS file. Use these guides to identify styles that can be overridden for your custom branding and installation or to quickly reference style name and CSS information for customization.
SharePoint 2007 CSS Reference Chart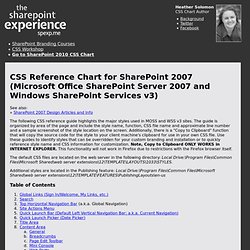 Create a custom site theme and make it available to others - Sha
Summary: This article explains the structure of master pages, the steps to create a custom master page, the underlying mechanisms of navigation in WCM-enabled sites, the creation of custom field controls, and how to customize the Page Editing toolbar. (19 printed pages) Patrick Tisseghem, U2U October 2006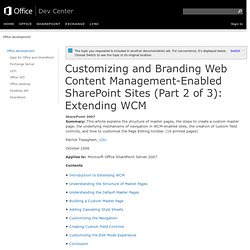 Customizing and Branding Web Content Management-Enabled SharePoi
SELFHTML
http://office.microsoft.com/de-at/sharepointdesigner/HA101741431
Sie können mit einer Vielzahl von unterschiedlichen Websitevorlagen schnell und bequem dynamische und professionell wirkende Websites erstellen – mit Team-Websites, Blogwebsites und einer Vielzahl von Besprechungsarbeitsbereichs-Websites. Die auf Grundlage dieser Websitevorlagen erstellten Webseiten können für viele Organisationen und Anwendungsbereiche direkt eingesetzt werden, in einigen Fällen möchten Sie jedoch vielleicht eine Seite in einer Website oder auch alle Seiten anpassen. Wenn Sie beispielsweise die Vertriebsmitarbeiter Ihrer Organisation mithilfe einer neuen Intranetsite über ein neues Produkt informieren und dazu schulen möchten, können Sie diese Website auf Grundlage der Vorlage Team-Website erstellen. Danach können Sie auf einzelnen Seiten Text oder Grafiken hinzufügen, die Hyperlinkleiste oben auf der Seite ändern, die Elemente auf der Schnellstartleiste neu anordnen und bearbeiten und die Schriftarten und Formatierungen für die Website ändern.