mods
Get flash to fully experience Pearltrees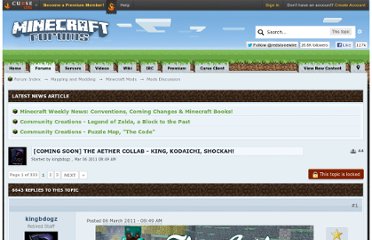 I'm Kingbdogz Quote Hey guys! If anyone wants to come discuss the Aether mod, you can come over to the IRC channel #aethermod on esper.net. _303, Kodaichi and Shockah will also be there.
Works with 1.2_02! Hey everyone! This is a page dedicated to all of my current mods. You can browse, observe and download them all! Have fun This donation button was placed upon request, usually I would not accept donations from people, but I would really love to get something back for all my hard work
[size=150]Version 0.6_x may have a game freezing problem that crashes minecraft (though, be aware that the game also will freeze if you don't place the included Builders folder in the correct location). If you would like to help me find and remove this problem sooner, if your game freezes follow the instructions in this [url=http://www.minecraftforum.net/viewtopic.php?f=1032&t=199761]topic[/url] and post your detailed crash reports.[/size] [size=150]NOTE: Before posting a question in this thread, make sure to review the text files included with the mod, and also be sure to check this post's FAQ and Tips and Tricks section to see if your question has already been answered.