Destinations
10 Most Famous Trees in the World. Famous trees come and go.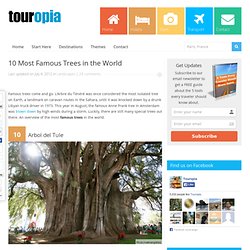 L'Arbre du Ténéré was once considered the most isolated tree on Earth, a landmark on caravan routes in the Sahara, until it was knocked down by a drunk Libyan truck driver in 1973. This year in August, the famous Anne Frank tree in Amsterdam was blown down by high winds during a storm. Luckily, there are still many special trees out there. An overview of the most famous trees in the world. - StumbleUpon.
21 Of the Most Extraordinary Places To Visit - StumbleUpon. Time Zone Map - StumbleUpon. How to choose a travel backpack - StumbleUpon. Choosing the right backpack for your trip is probably the single most important travel purchase that you will make before leaving home.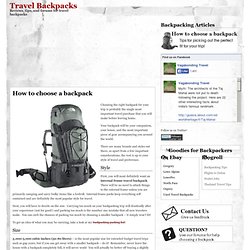 Your backpack will be your companion, your house, and the most important piece of gear accompanying you around the world. There are many brands and styles out there, so apart from a few important considerations, the rest is up to your style of travel and preference. The Most Adventurous Cat In The World.
Haunted places. Trip planners. Phrases in 5 common languages to know when traveling in Europe | Travel tip | Traveldudes.org - StumbleUpon. Traveling abroad this summer?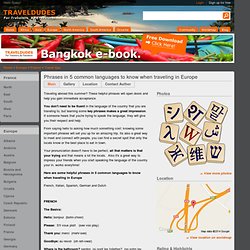 These helpful phrases will open doors and help you gain immediate acceptance. You don't need to be fluent in the language of the country that you are traveling to, but learning some key phrases makes a great impression. Survive Alone in the Wild: Mens Health.com - StumbleUpon. You'll be stripped of your watch and cellphone.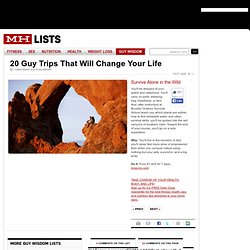 You'll carry no pack, sleeping bag, headlamp, or tent. And, after instructors at Boulder Outdoor Survival School teach you which plants are edible, how to find drinkable water, and other survival skills, you'll be guided into the red canyons of southern Utah. Backpack Europe on Budget--Backpacking and travel info for budget travelers. - StumbleUpon. The Traveller's Medicine Cabinet: 5 Essential Drugs for the Road - StumbleUpon. While out roving you aren't always (or even often) anywhere near a hospital or pharmacy.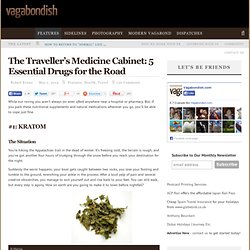 But, if you pack these nutritional supplements and natural medications wherever you go, you'll be able to cope just fine. #1: Kratom.