Violence
On April 20, 1999, two teenagers armed with semiautomatic weapons and explosives killed thirteen people at Columbine High School in Littleton, Colorado. The teenagers, both students at Columbine, then took their own lives. The high school massacre in Littleton came in the wake of other school shootings.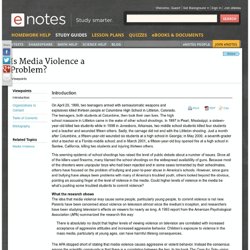 Is Media Violence a Problem? Essays and Articles at eNotes
Steven Pinker: Why Violence Is Vanishing
The Better Angels of Our Nature — By Steven Pinker — Book Review
Delusions of peace
Steven Pinker argues that we are becoming less violent. Nonsense, says John Gray
BOOKS review of Steven Pinker's "The Better Angels of Our Nature: Why Violence Has Declined" (Viking; $40).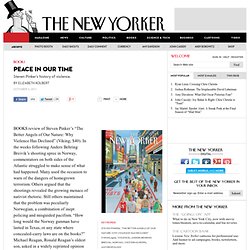 Steven Pinker's History of Violence in Decline