Funk / Soul / Hip-Hop
Turntable Radio - the world's longest running tablist radio show
DJ Revolution Presents "The Cut" : TheCutOnline.com By DJ Rev
Fat Beats NYC Final Week Live DJ Sets
*This is one of the most classic mixtapes ever! It was recorded on a 4-trk cassette recorder in 1995/96 and released in late 1996 into '97.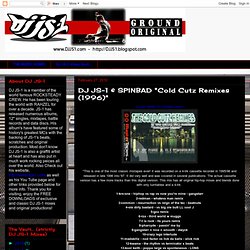 DJ JS-1 & SPINBAD "Cold Cutz Remixes (1996)"
Disco Brothers | Disco, Funk, Boogie music & parties
d.o.p.e.
Deepfunk and Rare Soul Forum
DJ equipment, music news, art, and anything else related to the life of a dj. — The Dj's Corner
SO MANY RECORDS, SO LITTLE TIME
tablist.net | Good Music Made With Records
SOULKOMBINAT..:::the funky side of berlin:::.....