Funk / Soul / Hip-Hop
Turntable Radio - the world's longest running tablist radio show
DJ Revolution Presents "The Cut" : TheCutOnline.com By DJ Rev
Fat Beats NYC Final Week Live DJ Sets
*This is one of the most classic mixtapes ever! It was recorded on a 4-trk cassette recorder in 1995/96 and released in late 1996 into '97. It did very well and was covered in several publications. The actual cassette version has a few more tracks than this digital version. This mix has all original hip-hop mixes and blends done with only turntables and a 4-trk. 1-krs-one - hiphop vs rap vs now you're mine - gangstarr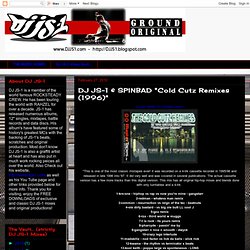 DJ JS-1 & SPINBAD "Cold Cutz Remixes (1996)"
live: dee-jays: KON & AMIR (BBE Rec., NY, USA) Loveis, Shipa, Funky Gomez, Goodsoul, Chin, Scot4, Shahash, Charly Brown, Lari Unit, Iggaz, Sole, Shaggy Star, Lativ. Есть на планете, люди которые могут рассказать о музыке гораздо больше, чем знают любые коллекционеры, музыканты, диджеи, танцоры вместе взятые!
Disco Brothers | Disco, Funk, Boogie music & parties
d.o.p.e.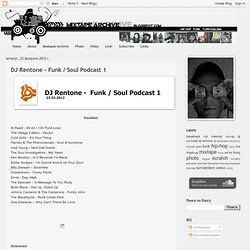 Lucas MacFadden (born October 4, 1972),[1] better known as Cut Chemist, is an American DJ and record producer. He is a former member of the funk Latin band Ozomatli, and of hip hop group Jurassic 5. He has collaborated with fellow turntablist DJ Shadow on a number of projects. Cut Chemist became known through the Los Angeles-based rap group Unity Committee, and debuted on vinyl on the B-side of Unity Committee's 1993 single, "Unified Rebelution". The track, "Lesson 4: The Radio" was an ovation of Double Dee and Steinski's "Lessons 1-3."
Deepfunk and Rare Soul Forum
Our new regular monthly radio show WHAT IS WRONG WITH GROOVIN' started on 19 April and will be broadcast live at 4pm UK time on NTS at various dates to be announced....! Listen online now! Orsi and I will be playing all kinds of stuff including up-coming releases on our labels; also modal jazz, ethnic jazz, latin jazz, popcorn, funk, tittyshakers, moldie oldies, RnB, cumbia, ska, northern soul, oddities and obscurities from the '50s to the '90s that are interesting and fun! Here's a tracklist from Show #1:
by dj gray The Sennheiser RS-120 Wireless Headphones are an ideal choice for wireless use of both Hi-Fi audio and the TV. The open-ear headphones are supraaural and provide detailed, warm sound reproduction with a strong bass response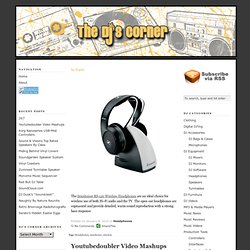 DJ equipment, music news, art, and anything else related to the life of a dj. — The Dj's Corner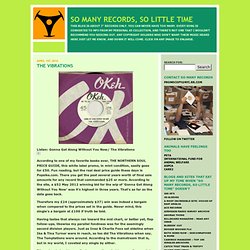 SO MANY RECORDS, SO LITTLE TIME
Listen: Sugartime / The McGuire Sisters Sugartime My Dad's cousin, Dominic Bruno, owned a nightclub in the 50′s/60′s called the Three Rivers Inn, somewhere near Syracuse. I suppose it was that period's version of today's Casinos, but on a way smaller scale. The acts would do a week or so. The many headliners included Jayne Mansfield, Sammy Davis Jr, Mae West, Paul Anka, Tony Bennett, very lounge and nowadays known as Bachelor Pad stuff.
tablist.net | Good Music Made With Records
SOULKOMBINAT..:::the funky side of berlin:::.....