Occupation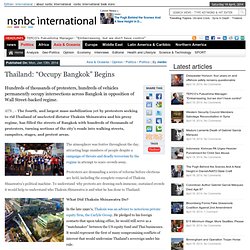 Thailand: "Occupy Bangkok" Begins
Hundreds of thousands of protesters, hundreds of vehicles permanently occupy intersections across Bangkok in opposition of Wall Street-backed regime. ATN , – The fourth, and largest mass mobilization yet by protesters seeking to rid Thailand of unelected dictator Thaksin Shinawatra and his proxy regime, has filled the streets of Bangkok with hundreds of thousands of protesters, turning sections of the city's roads into walking streets, campsites, stages, and protest areas. The atmosphere was festive throughout the day, attracting huge numbers of people despite a campaign of threats and deadly terrorism by the regime in attempt to scare crowds away. Protesters are demanding a series of reforms before elections are held, including the complete removal of Thaksin Shianwatra's political machine.
Gibson writes: "The real healthcare debate in this country shouldn't be focused on insurance, but on the fundamental causes of the outrageous costs of healthcare and why even basic health insurance is unaffordable for millions of Americans." By Carl Gibson, Reader Supported News 04 January 14 he real healthcare debate in this country shouldn't be focused on insurance, but on the fundamental causes of the outrageous costs of healthcare and why even basic health insurance is unaffordable for millions of Americans. The Affordable Care Act (ACA) is an improvement over the status quo.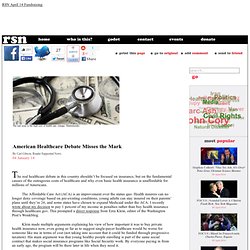 American Healthcare Debate Misses the Mark
An Open Letter to The Occupy Wall Street Movement: You Were Right All Along
Photo: Occupy Wall Street Facebook page There is a vast total-information-awareness surveillance network made up of global corporations and subservient (captured) governments engaging in the systematic infiltration and suppression of social justice activist groups. Their main method of control is the implementation of divide-and-conquer strategies.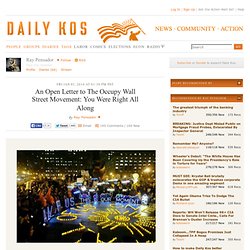 Why I voted for an academic boycott of Israel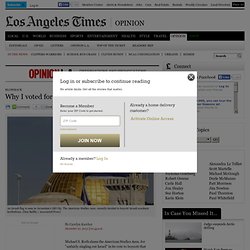 Michael S. Roth slams the American Studies Assn. for "unfairly singling out Israel" in its vote to boycott that nation's academic institutions; he calls the action an "irresponsible attack on academic freedom." As a 39-year member of the American Studies Assn. (ASA) and a Jewish American, I want to explain why Roth -- whose Op-Ed was published by The Times Dec. 20 -- is wrong and why I wholeheartedly support the organization's resolution. The resolution is far from an attack on academic freedom.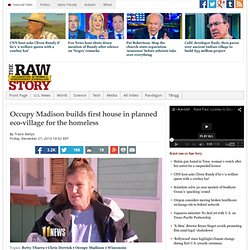 Occupy Madison builds first house in planned eco-village for the homeless
By Travis GettysFriday, December 27, 2013 10:52 EST A homeless Wisconsin couple moved into a "tiny home" Christmas Eve they helped build with fellow Occupy Madison members. Chris Derrick and Betty Ybarra had been living since April in an encampment at a county park with other members of the protest group, which plans to build more small homes with college students and other volunteers for the city's growing homeless population. A citywide count in January found 831 homeless people – a 47 percent increase over three years – in Madison, where the average home sale costs nearly $300,000. The protest group, which grew out of the Occupy Wall Street movement to protest wealth inequality, put together teams of volunteers to build two houses using a basic blueprint that can be adapted to fit the creators' tastes, reported the Wisconsin State Journal.
On The 100th Anniversary Of The Federal Reserve Here Are 100 Reasons To Shut It Down Forever
December 23rd, 1913 is a date which will live in infamy. That was the day when the Federal Reserve Act was pushed through Congress. Many members of Congress were absent that day, and the general public was distracted with holiday preparations.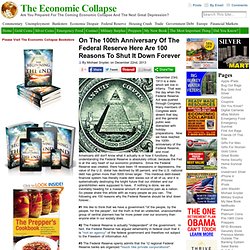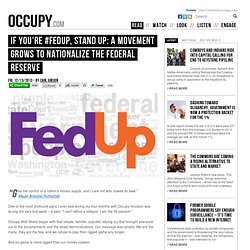 "Give me control of a nation's money supply, and I care not who makes its laws."-Mayer Amschel Rothschild One of the most profound signs I ever saw during my four months with Occupy Houston was during the very first week – it said, "I can't afford a lobbyist. I am the 99 percent."
If You're #FedUp, Stand Up: A Movement Grows to Nationalize the Federal Reserve
docs.evancarroll.com/politics/local/jamin/Taylor_Subpoena.pdf
Blacklisting Occupy Wall Street and Banksy: NBC's "The Blacklist" By Dennis Loo (11/13/13) In the new NBC drama, The Blacklist, James Spader plays Raymond "Red" Reddington, a former government agent who becomes a master criminal, earning a spot on the FBI's Most Wanted List.
Blacklisting Occupy Wall Street and Banksy: NBC's "The Blacklist" | Articles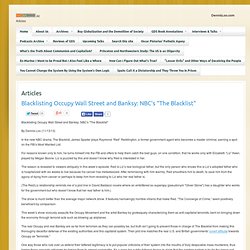 http://www.occupywallst.org All Day! All Week! Occupy Wall Street!
Occupy Wall Street on Donate Your Account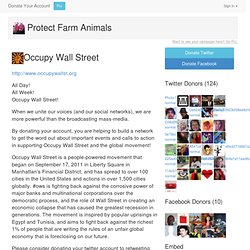 Into Eternal Light and Love
In Deference to Great Men: Aaron Sorkin vs. the Occupy Movement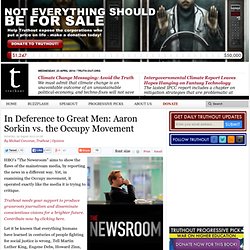 (Image: ©2013 Home Box Office, Inc.)HBO's "The Newsroom" aims to show the flaws of the mainstream media, by reporting the news in a different way. Yet, in examining the Occupy movement, it operated exactly like the media it is trying to critique. Truthout needs your support to produce grassroots journalism and disseminate conscientious visions for a brighter future. Contribute now by clicking here. Let it be known that everything humans have learned in centuries of people fighting for social justice is wrong.
Here's what white privilege sounds like: I'm sitting in my University of Texas office, talking to a very bright and very conservative white student about affirmative action in college admissions, which he opposes and I support. The student says he wants a level playing field with no unearned advantages for anyone. I ask him whether he thinks that being white has advantages in the United States.
White Privilege Shapes the U.S
The Occupy Money Cooperative
The Occupy Money Cooperative is like a bank, but better. Like a bank we offer access to financial products like prepaid debit cards. And like a bank your money is FDIC insured. But unlike a bank, you'll get a better deal. Because the Cooperative will be run by its members. Which means we won't have to answer to Wall Street or to profit-hungry directors.
'Occupy Bakery'
Photo Credit: Daryl Lang/Shutterstock.com June 6, 2013 | Like this article?
Surprise, Surprise! All Occupiers Phones Were Logged
Abdullah does not lead the cause of death blow to Hatay Cömert
The day the people of Turkey rose up — in pictures
Originally written for the Occupy revolt in America, you, the citizens of Turkey, are showing the people in the U.S. how it's done. Occupy America not only stands with you, we stand awed and inspired by your bravery and fortitude. God bless you all. ————————————————– Three-Pronged Pitchfork The street, keeping time,
When People Most Familiar With Wall Street Say This About It, You Know It's Time For Reform - Switch Your Bank
Aaron Cohen, OC-Based Human Trafficking Fighter, Now Has Eyes Set on Helping to End Personal Debt
David Graeber, the Anti-Leader of Occupy Wall Street
Occupy Wall Street Members' Income and Education Backgrounds Analyzed in Study
State of California Orders Walmart-Contracted Warehouse to Pay More than $1 Million in Stolen Wages | Warehouse Workers United
Resistance in Bahrain: worker's struggles | SocialistWorkercanada
A 'Black Bloc' Emerges in Egypt
Strike-Debt-Organizing-Kit.pdf
99%—The Occupy Wall Street Collaborative Film - Festival Program | Sundance Institute
The Idle No More Movement for Dummies (or, 'What The Heck Are All These Indians Acting All Indian-Ey About?')
Saudi activists say kingdom trying to silence them
Occupy Harrisburg quietly ends after more than a year of 24/7 protesting
FBI OWS Documents
Open Letter to the FBI, From a Former Houston Occupier | Occupy.com
Naomi Wolf's 'Shocking Truth' About the 'Occupy Crackdowns' Offers Anything but the Truth
Why Naomi Wolf got it wrong - Opinion
FBI Documents Reveal Secret Nationwide Occupy Monitoring
Revealed: how the FBI coordinated the crackdown on Occupy | Naomi Wolf | Comment is free
Occupy Heavily Monitored for Potential Criminal Activity, HSBC Slapped on the Wrist for Actual Criminal Activity
The FBI – Drowning In Counter-Terrorism Money, Power and Other Resources – Will Apply The Term "Terrorism" To Any Group It Dislikes And Wants To Control And Suppress
Occupy Wall Street Forgives $100,000 of Medical Debt (and Counting!)
Carl Gibson: FBI Should Investigate Bankers, Not Protesters
NYPD for hire: how uniformed New York cops moonlight for banks | Naomi Wolf | Comment is free
The Top 10 Films that Explain Why the Occupy Movement Exists
NYPD Credits Occupy with the Drop in Crime After Sandy - National
Occupy Wall St protesters wipe $5m off America's debt
The Yes Men: What Is a Gift?
From Scarcity to Abundance
Occupy Sandy: Onetime Protesters Find New Cause
Where FEMA Fell Short, Occupy Sandy Was There
Mayor Bloomberg Owes OWS an Apology
Occupy Sandy: Why Activists Are Working with NYC Mayor, Police
Occupy Sandy Church Hit With 'Suspicious' Fire, Police Say
Rolling Jubilee
The Rolling Jubilee Mails its First Debt Forgiveness Letters
The Plot Against Occupy | Culture News
Lock mess: Austin cops supplied incriminating devices to Occupy protesters
Oakland City Council Seeks to Cut Goldman Sachs Ties After Bank Profits from Lowered Interest Rates
Taibbi Joins Yves Smith on Moyers | Matt Taibbi | Rolling Stone
Wall Street Owns The Country
Philadelphia Mayor Nutter Mic-Checked at Harvard
Public Information/Media  | Occupy Boise
Calvin and Hobbes explain Occupy Wall Street
JPMorgan Swap Deals Spur Probe as Default Stalks Alabama County
Right-wing documentary targets Occupy
Move Your Money Project
Why Now? What's Next? Naomi Klein and Yotam Marom in Conversation About Occupy Wall Street
How to Investigate Your Elected Officials
Occupy SF Wants to Create a Credit Union
Occupy SF Protesters to Open People's Reserve Credit Union
Declaration of the Occupation of New York City
Occupy Voices :: Home
www.mvla.net/teachers/HectorP/SoPol/Documents/APHOTUS/A People's History of the United States.pdf
occupyresearch - home
wiki
$7.7 Trillion to Wall Street - Anything to Keep the Banksters Happy! | Antemedius
The More Americans That Go On Food Stamps The More Money JP Morgan Makes
Wall of text: I work in Wall Street and work in hedge fund analysis. I'm the only person in my office who supports OWS. : occupywallstreet
House Democrat Introduces OCCUPIED Constitutional Amendment to Ban Corporate Money in Politics
Why Isn't Wall Street in Jail? | Politics News | Rolling Stone
Movers And Sheriff's Deputies Refuse Bank's Order To Evict 103-Year-Old Atlanta Woman