Open everything-du libre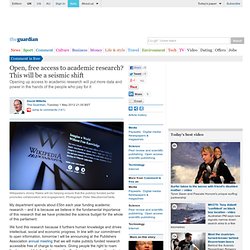 Wikipedia's Jimmy Wales will be helping ensure that the publicly funded portal promotes collaboration and engagement.
Open, free access to academic research? This will be a seismic shift | David Willetts | Comment is free
Open Research & Learning
De la parole, sans les actes.
Un appel d'offres illégal à Québec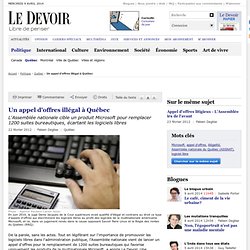 Introduction to Openness in Education
"Today is the day", comprenez le "jour J est arrivé" pour les utilisateurs de Skype sous Linux. On les pensait oubliés, délaissés. Ils ont droit à une mise à jour de l'application de VoIP. On n'y croyait plus ! Cette version 2.2 (bêta, on aurait dû s'en douter) apporte, si elle n'atteint pas le niveau de Windows et Mac OS X, quelques avancées assez intéressantes comme la possibilité de mettre un appel en attente, une meilleure définition de la voix et de l'image dans les échanges (il était temps !)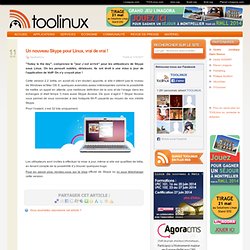 le journal du Libre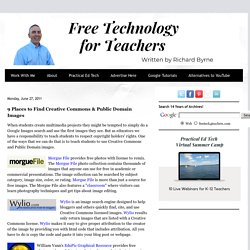 9 Places to Find Creative Commons & Public Domain Images
When students create multimedia projects they might be tempted to simply do a Google Images search and use the first images they see. But as educators we have a responsibility to teach students to respect copyright holders' rights. One of the ways that we can do that is to teach students to use Creative Commons and Public Domain images.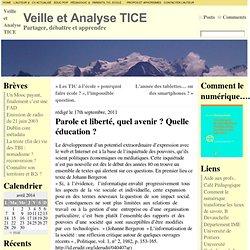 Parole et liberté, quel avenir ? Quelle éducation
Le développement d'un potentiel extraordinaire d'expression avec le web et Internet est à la base de l'inquiétude des pouvoirs, qu'ils soient politiques économiques ou médiatiques. Cette inquiétude n'est pas nouvelle est dès le début des années 80 on trouve un ensemble de textes qui alertent sur ces questions. En premier lieu ce texte de Johann Bergeron « Si, à l'évidence, l'informatique envahit progressivement tous les aspects de la vie sociale et individuelle, cette expansion pose en des termes nouveaux la question de son impact social.
Why public education must be preserved - The Answer Sheet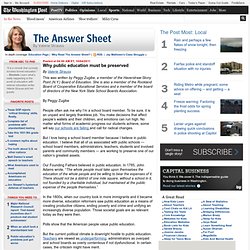 Posted at 04:00 AM ET, 10/04/2011 Oct 04, 2011 08:00 AM EDT TheWashingtonPost
Richard Baraniuk parle de l'apprentissage open-source | Video on TED.com | 21st century learning | Scoop.it
Hal Plotkin Releases Free to Learn: An Open Educational Resources Policy Development Guidebook for Community College Governance Officials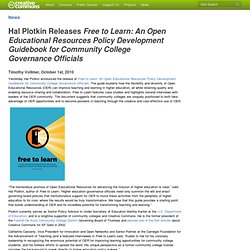 Timothy Vollmer, October 1st, 2010 Yesterday Hal Plotkin announced the release of Free to Learn: An Open Educational Resources Policy Development Guidebook for Community College Governance Officials.
Parents Launch Campaign To Teach Kids How To Code
Vers une politique de gouvernement ouvert au Québec - Consultation publique Web 2.0 - par IdeaScale
Les technologies associées au Web 2.0 représentent une opportunité exceptionnelle pour le gouvernement d'améliorer les services aux citoyens et le fonctionnement interne de l'État. Trois grands avantages ressortent d'une telle utilisation des outils du Web 2.0, à savoir la transparence, la participation et la collaboration : 1.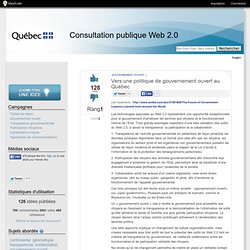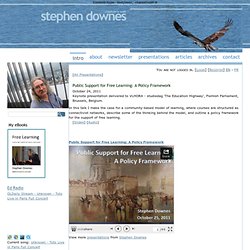 [All Presentations]
Public Support for Free Learning: A Policy Framework
Éducation : Québec prépare une révolution pour les commissions scolaires | Politique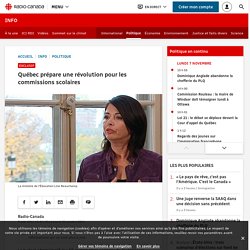 Le reportage de Martine Biron Exclusif - Le budget administratif des 69 commissions scolaires du Québec sera amputé de moitié d'ici trois ans, annonce la ministre de l'Éducation, Line Beauchamp dans une entrevue exclusive accordée à Radio-Canada.
Images libre d'utilisation
Yaci : un moteur de recherche Open Source et en mode P2P
Des partisans du logiciel libre viennent de lancer un moteur de recherche Peer-to-Peer pour concurrencer Google, Bing, Yahoo... Un projet baptisé YaCy.
6 Tips for Open Collaboration
Posted by venessa miemis on Tuesday, June 1, 2010 · 7 Comments [This is a crosspost from Alpha Lo's blog, Open Collaboration. Though he had a much catchier title for the post ("What I Learned From Venessa Miemis" - ha), I thought he did a great job listing some of the attitudes and behaviors helpful when trying to extend oneself, collaborate, and evolve. Alpha's doing some amazing work in creating gift circles on the west coast.
The Challenge Help translate "A Declaration of Interdependence", a globally crowd-sourced film, by Webby Awards Founder & award-winning filmmaker Tiffany Shlain, featuring music by Moby and translations enabled by Dotsub. Together with skilled volunteers from around the world, we will translate this new 5-minute film into 100 or more languages as a multi-cultural celebration of interdependence in action. Apply Now!
Welcome to 100 Language Challenge for Interdependence
Notes: Researchers and New Technology (Martin Weller, chapter 5) « ZML Didaktik / Innovative Learning Scenarios
Open research results: Researchers are using web2.0 tools / internet services related to their work or for communication in networks / communities. The use of these tools depends on the research subject and not on age.
Open Educational Resource and the future
Digital Participation: Open Access, Open Content, OER: Towards the future of scholarship and research