Regards sur 2.0(10)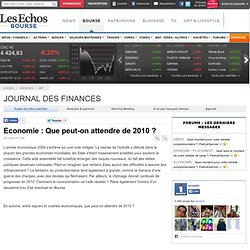 L'année économique 2009 s'achève sur une note mitigée. La reprise de l'activité a débuté dans la plupart des grandes économies mondiales, les Etats s'étant massivement endettés pour soutenir la croissance.
Journal des Finances - Les minutes de vérité : Economie : Que
Barbier de L'ExpressUn balcon sur 2010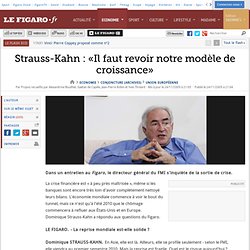 Dans un entretien au Figaro, le directeur général du FMI s'inquiète de la sortie de crise.
DSK Revoir le modele de croissance
The World in 2010: forecasting the year ahead
Spain assumes the rotating presidency of the European Union and Pécs (in Hungary), Essen (Germany) and Istanbul (Turkey) become European capitals of culture. The great and good from business, politics and the media puzzle out the state of the world at the World Economic Forum in Davos, Switzerland. President Barack Obama delivers his first state-of-the-union address, telling Americans how it is. Mr Obama's self-imposed deadline arrives for the closure of the Guantánamo Bay detention centre. Chinese around the world welcome the Year of the Tiger, symbolising power and sensitivity (but also short tempers), just as the world's lovers, actual or would-be, celebrate St Valentine's Day.
: Calendar for 2010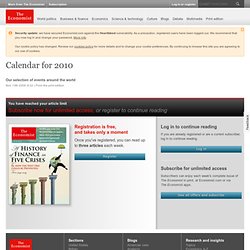 The 2010+ challenges
Good Decade
The Trade Seesaw - Graphic