Research - Google Apps and Education
What type of collaboration helps? Psychological ownership, perceived learning and outcome quality of collaboration using Google
Collaborative Lab Reports with Google Docs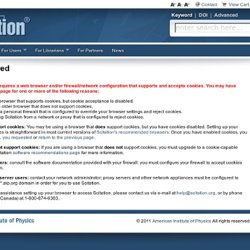 ALERT! This service requires a web browser and/or firewall/network configuration that supports and accepts cookies. You may have been redirected to this page for one or more of the following reasons: You are using a browser that supports cookies, but cookie acceptance is disabled. You are using an older browser that does not support cookies. You are utilizing a personal firewall that is configured to override your browser settings and reject cookies.
New word modes for collaborative writing
Using Google Apps in Professional Learning Communities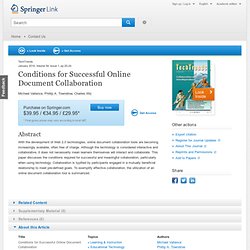 With the development of Web 2.0 technologies, online document collaboration tools are becoming increasingly available, often free of charge.
Conditions for SuccessfulOnline Document Collaboration
Google Docs in Higher Education Settings: A Preliminary Report
Using Google Docs To Support Project-Based Learning
Extending Google Docs to Collaborate on Research Papers
Don't be afraid of Web 2.0
Accessing Google Docs via Screen Reader
Integrating Web 2.0 in health education preparation and practice
Web 2.0 for content for learning and teaching in Higher Education
Participants Participants were recruited from second and third year programs in medical, nursing and physiotherapy schools in the United States and Brazil, all receiving informed consent prior to the initiation of study activities. The study was approved by the Institutional Review Board at Duke University and conducted between 2005 and 2007.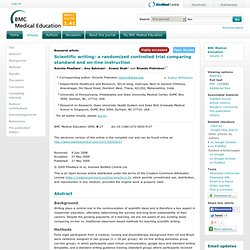 BioMed Central | Full text | Scientific writing: a randomized controlled trial comparing standard and on-line instruction.
E-Learning in the cloud
UBIQUITOUS, FREE, AND EFFICIENT ONLINE COLLABORATION TOOLS FOR TEACHING AND LEARNING
Turkish Online Journal of Distance Education-TOJDE October 2008 ISSN 1302-6488 Volume: 9 Number: 4 Notes for Editor-1 Jace HARGIS, Ph.D. Assistant Provost for Faculty Development University of the Pacific Stockton , California, USA S.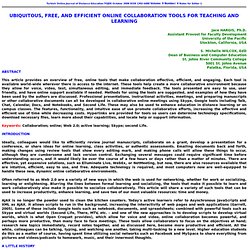 Cloud computing
New-Media Literacies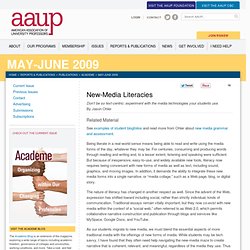 Being literate in a real-world sense means being able to read and write using the media forms of the day, whatever they may be.