Google Apps
Google Docs
Other handy Google Apps. Research - Google Apps and Education. GoogleApps's Channel. Upload Subscription preferences Loading... Working... Google docs Related Resources. 14 Mar 2014 How to Scrape Google with Google Sheets Learn how to scrape Google pages and extract search results and keyword ranking data using simple ImportXML functions inside Google Spreadsheets. 11 Mar 2014.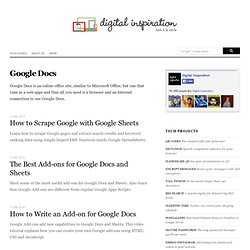 100 Ways Google Can Make You a Better Educator. We all know that Google offers a great search program, and you might even use other apps like Gmail or Google Calendar, but have you realized what Google has to offer for online colleges educators and students?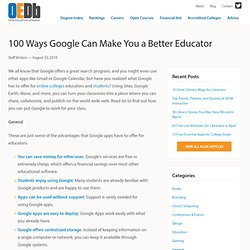 Using Sites, Google Earth, Wave, and more, you can turn your classroom into a place where you can share, collaborate, and publish on the world wide web. Read on to find out how you can put Google to work for your class. General. Digital Tools. 50 time-saving Google Docs templates. 70+ Google Forms for the Classroom. Google Forms is a great tool and I hope to use it more throughout this year.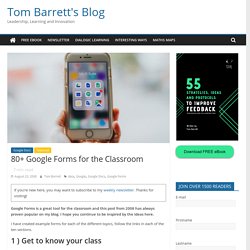 Take a look here for a more detailed introduction and guide to using and creating a Google Form – this was written prior to Google bringing forms into the NEW menu. I have created example forms for each of the different topics, follow the links in each of the ten sections. Google Demo Slam: Epic Docs Animation.
---