Articulate
Articulate Presenter at the University of Leeds. General support information Firstly, you will need to install the Articulate software on your PC.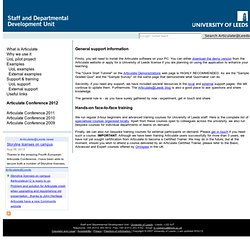 You can either download the demo version from the Articulate website or apply for a University of Leeds license if you are planning on using the application to enhance your teaching. The "Quick Start Tutorial" on the Articulate Demonstrations web page is HIGHLY RECOMMENDED. As are the "Sample Graded Quiz" and the "Sample Survey" on the same page that demonstrate what Quizmaker can do. Secondly, if you need any support, we have included several resources in the local and external support pages. Word of Mouth Blog.
Weekly Recap: Spring Into E-Learning Action Apr72014 Happy Monday, E-learning Heroes!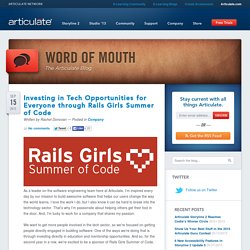 Feeling a little learner-shy? Stuck on a vexing scenario? 10 Best Articulate Presenter Tricks and Tips. Sharebar I often use Articulate Presenter for rapid course development and every so often, I come across a tip or trick that amazes me.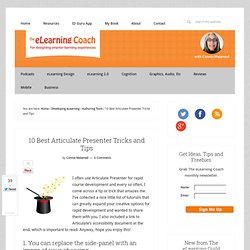 I've collected a nice little list of tutorials that can greatly expand your creative options for rapid development and wanted to share them with you. I also included a link to Articulate's accessibility document at the end, which is important to read. Articulate Presenter at the University of Leeds. UoL-specific support If you have decided that you need Articulate Presenter, Quizmaker, Engage and Video Encoder, please complete the Proposal Form (Word document) and send it to the Articulate Coordinator.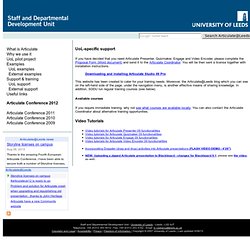 You will be then sent a license together with installation instructions. Downloading and installing Articulate Studio 09 Pro This website has been created to cater for your training needs. Articulate Presenter at the University of Leeds. Articulate Presenter at the University of Leeds. By engaging with this presentation and answering the related questions, the session participants have more realistic expectations related to what Articulate Presenter and Quizmaker can do and also regarding what PowerPoint expertise they need.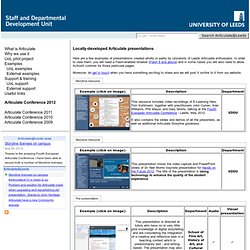 Furthermore, the trainer also knows much better how to adjust the delivery of the session in order to cater for the participants' differences. We have received significant positive feedback about this presentation. Given that, after watching it, workshop participants were on the same wavelength, a lot more demonstrations and hands-on practice could be delivered on the day. Player Template – Articulate Quizmaker '09 Knowledge Base. Three Sure-Fire Tips to Build Better E-Learning Courses. In last week's post, I offered some tips for building rapid elearning courses when you're short on time and resources.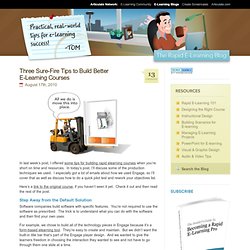 In today's post, I'll discuss some of the production techniques we used. I especially got a lot of emails about how we used Engage, so I'll cover that as well as discuss how to do a quick pilot test and rework your objectives list. Graded Questions – Articulate Quizmaker '09 Help.
---