Monetisation /Publicite
Can Social TV Save TV Advertising? | Anne-Marie Roussel. According to figures published by Wired.com, TV advertising is still king of the advertising world.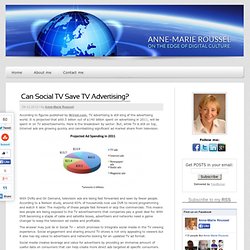 It is projected that $60.5 billion out of $140 billion spent on advertising in 2011, will be spent in on TV advertisements. Here is the breakdown by sector: But, while TV is still on top, Internet ads are growing quickly and cannibalizing significant ad market share from television. With DVRs and On Demand, television ads are being fast forwarded and seen by fewer people. TV Commercial Time = Mobile Primetime | Yahoo! Advertising Blog. TV Ads' New Digital Role - Shiv Singh. By Shiv Singh | 11:45 AM November 10, 2011 Television advertising has undergone significant changes in the last 30 years.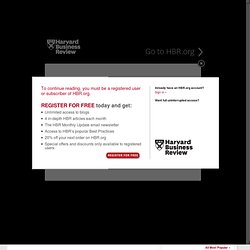 However, it is arguably on the verge of its greatest changes ever. From where I sit as the Global Head of Digital at PepsiCo Beverages, charged with navigating our brand's foray into the digital world, I see three big changes: –The value we put on an advertisement will change as we seek to account for engagement metrics in the pricing. SecondScreen Networks, The Ad Platform to Monetize Social TV.
---