Monetisation /Publicite
Can Social TV Save TV Advertising? | Anne-Marie Roussel
According to figures published by Wired.com, TV advertising is still king of the advertising world. It is projected that $60.5 billion out of $140 billion spent on advertising in 2011, will be spent in on TV advertisements. Here is the breakdown by sector: But, while TV is still on top, Internet ads are growing quickly and cannibalizing significant ad market share from television. With DVRs and On Demand, television ads are being fast forwarded and seen by fewer people.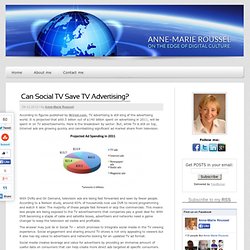 by Shiv Singh | 11:45 AM November 10, 2011
TV Ads' New Digital Role - Shiv Singh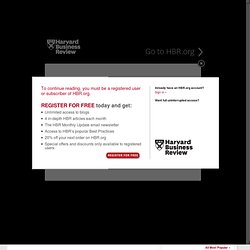 SecondScreen Networks, The Ad Platform to Monetize Social TV
The greatness of the Internet is disintermediation. Since the 90′s brands and businesses can directly interact with consumers, fans, users. Everything started with email and websites, then came forums and communities, and now it's time for the social media. Nothing replaced anything: we still have corporate websites, we still have dissemination and conversations on thematic forums, we now have facebook, twitter and google+. But since the beginning, brands explored creative ways to go beyond banners and sponsorships, and to interact with zero intermediation: they created flash games, fan forums, and facebook pages to test new conversation paradigms, because they understood immediately that visibility on media websites with millions of users is just the first step to create loyalty.
Social TV for brands: is it really all about advertising? « PlayTheTV