How to ?
If You Don't Get Social Media, Here's What To Do About It. If you secretly feel hopeless about social media marketing, read on.
You'll find a strategy that will get results. November 22, 2011. 8 Tips To Help Optimize Your Social Networking Pages. Always keep something in mind here.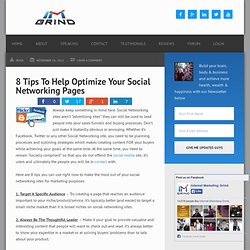 Social Networking sites aren't "advertising sites" they can still be used to lead people into your sales funnels and buying processes. Don't just make it blatantly obvious or annoying. Whether it's Facebook, Twitter or any other Social Networking site, you need to be planning processes and outlining strategies which makes creating content FOR your buyers while achieving your goals at the same time. » The Theory Behind Social Interaction Design Johnny Holland. I view social interaction design as a field that seeks user-centric descriptions of experiences and behaviors on social media, with an eye on emergent social practices.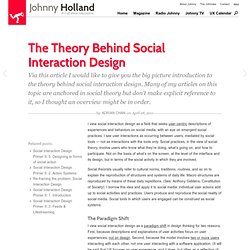 I see user interactions as occurring between users, mediated by social tools — not as interactions with the tools only. Social practices, in the view of social theory, involve users who know what they're doing, what's going on, and how to participate. Making the Most of Social Media Marketing – Links « Silicon Beac. Below you'll find a comprehensive list of Social Media Tips, Guides, Plugins, Platforms, Analytics Tools, Apps and other great Social Media resources.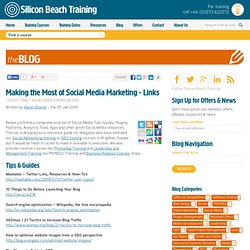 This list is designed as a reference guide for delegates who have attended our Social Networking training or SEO training courses in Brighton, Sussex - but it would be mean of us not to make it available to everyone. We also provide creative courses like Photoshop Training and Leadership and Management Training like PRINCE2 Training and Business Analysis Courses. Enjoy... Tips & Guides. Le SMO (Social Media Optimization) - Réussir son référencement Web 2011 - Journal du Net Solutions. « Les leviers à utiliser pour tirer le meilleur parti de son référencement se multiplient au fur et à mesure des années.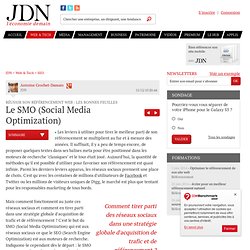 Il suffisait, il y a peu de temps encore, de proposer quelques textes dans ses balises meta pour être positionné dans les moteurs de recherche "classiques" et le tour était joué. Aujourd'hui, la quantité de méthodes qu'il est possible d'utiliser pour favoriser son référencement est quasi infinie. Parmi les derniers leviers apparus, les réseaux sociaux prennent une place de choix. Les 8 ?tapes d?une Strat?gie Social Media Efficace.
« Si vous ne focalisez que sur les outils, et leurs dernières mises à jour, alors vous n'êtes certainement pas un stratège en Social Media ».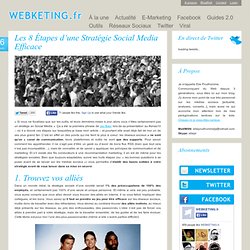 Ça a été la première phrase de Jay Baer lors de sa présentation au #smss10 – où il a donné ces étapes sur lesquelles je base mon article – et pourtant elle avait déjà fait de moi un de ses plus grand fan. C'est en effet un des points qui me tient le plus à coeur: les réseaux sociaux « ne sont qu'un » canal de communication, leurs plateformes et outils ne sont que des supports. 25 brilliant examples of Facebook brand pages.
I love to see brands generating innovative, engaging and creative advertising online.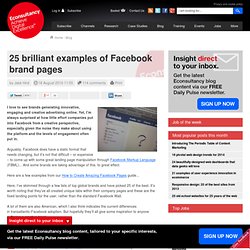 Yet, I'm always surprised at how little effort companies put into Facebook from a creative perspective, especially given the noise they make about using the platform and the levels of engagement often put in. Arguably, Facebook does have a static format that needs changing, but it's not that difficult – or expensive – to come up with some great landing page manipulation through Facebook Markup Language (FBML)... Bien gérer sa réputation en ligne (agence Vanksen) Want to Succeed In Social Media? Recently, I've seen a lot of studies about the lack of success of small businesses in social media.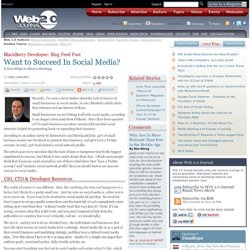 In one eMarketer article alone they reference not one but two of them: Small businesses are not hitting it off with social media, according to an August 2009 study from Citibank. More than three-quarters of US small-business executives surveyed did not find social networks helpful for generating leads or expanding their business. According to an online survey by Internet2Go and MerchantCircle, 45% of small-business owners use Facebook to promote their business, and 46% have a Twitter account.
In total, 53% had created a social network profile. 5 Levels of Effective Communication in the Social Media Age. Soren Gordhamer is the organizer of the Wisdom 2.0 Conference, which brings together staff from Google, Facebook, and Twitter with others to explore living wisely in our modern age.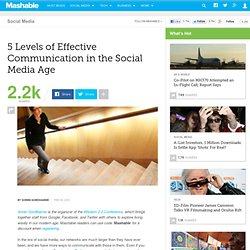 Mashable readers can use code 'Mashable' for a discount when registering. In the era of social media, our networks are much larger than they have ever been, and we have more ways to communicate with those in them. Social media landscape pour les marketeux.
---