Chiffres
YouTube
London firm predicts 551 million connected TV sets by 2016
Directly connected TV sets will account for a larger proportion of Internet access from TVs by 2016. Rapid growth in the number of TVs connected to the Internet has been predicted by London based Digital TV Research, rising from 124 million at the end of 2010 to 551 million by 2016.
[ABC is owned by the Walt Disney Company, CBS is a division of CBS Corp; Univision and UNIMAS are owned by Univision Communications, Inc; NBC and Telemundo are owned by NBC Universal; Fox is owned by Fox Entertainment Group, a unit of News Corp.; ION is owned by ION Media Networks.] *Stickiness Index powered by Rentrak TV Essentials (www.rentrak.com) **Social Activity powered by General Sentiment (generalsentiment.com) † Not reported by General Sentiment [LIFE and HST are owned by A&E Television Networks; WE is owned by AMCX; VH1 is owned by MTV Networks, a division of Viacom; Hallmark and Hallmark Movie Channel are owned by Crown Media Family Networks; BRAVO and OXGN are owned by NBC Universal; DSC is owned by Discovery Communications, LLC; TNT is owned by Turner Broadcasting, Inc., a unit of Time Warner.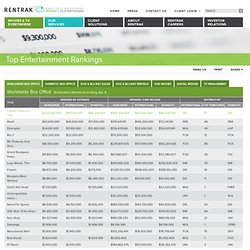 Weekly Top Entertainment Charts - Rentrak Corporation
Second-screen click rates top 10 percent, says TVPlus
The impact of Twitter on TV shows | Film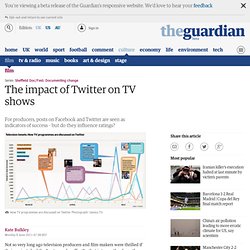 Not so very long ago television producers and film-makers were thrilled if their projects had the "water cooler effect" – that is to say the show, the programme or the film became a topic of conversation or chatter among people in offices, bars or the home.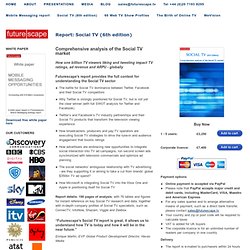 Report: Social TV - Insights into innovation in social TV
In-depth analysis of the Social TV market in a comprehensive report How one billion TV viewers liking and tweeting impact TV ratings, ad revenue and ARPU - globally
1.65 Billion Likes of TV Shows Indicates Facebook's Importance to Television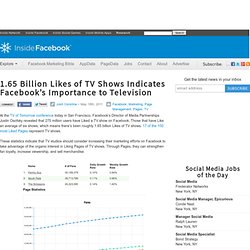 At the TV of Tomorrow conference today in San Francisco, Facebook's Director of Media Partnerships Justin Osofsky revealed that 275 million users have Liked a TV show on Facebook. Those that have Like an average of six shows, which means there's been roughly 1.65 billion Likes of TV shows. 17 of the 100 most Liked Pages represent TV shows. These statistics indicate that TV studios should consider increasing their marketing efforts on Facebook to take advantage of the organic interest in Liking Pages of TV shows. Through Pages, they can strengthen fan loyalty, increase viewership, and sell merchandise.
SocialGuide debuts daily social TV rankings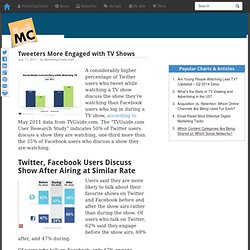 Tweeters More Engaged with TV Shows
A considerably higher percentage of Twitter users who tweet while watching a TV show discuss the show they're watching than Facebook users who log in during a TV show, according to May 2011 data from TVGuide.com. The "TVGuide.com User Research Study" indicates 50% of Twitter users discuss a show they are watching, one-third more than the 35% of Facebook users who discuss a show they are watching.
According to Jack Myers, who triggered everyone's radar at the first Social TV Summit in Hollywood, California last week, this could very well be the case and a $12 billion market by 2020 for Social TV is possible.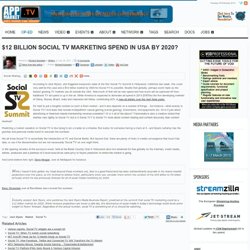 $12 Billion Social TV Marketing Spend in USA By 2020?
How Twitter Won the Super Bowl — Online Video News
Demand for TV Everywhere Widespread in Western Europe
30% of Broadband Homes consider Live Multiscreen Service as a Top TV-Service Feature Receiving live TV on a mobile phone, tablet, or computer is a popular feature throughout Western Europe, with 30% of broadband households highly interested in these TV Everywhere services, according to Parks Associates' recent consumer survey Connected Consumer in Europe. The international research firm found U.K. broadband households the most interested in receiving live TV on an Internet-connected device, with 36% highly positive on this feature. German broadband households showed the lowest interest, with only 24% selecting multiscreen services as a top feature.