Linkedin
Relationships Matter. How Are People Really Using LinkedIn? [INFOGRAPHIC] Transforme seu LinkedIn em um Infográfico. - Pitacos Modernos. Atualmente a maioria das empresas usam as redes sociais para fuçar a vida do funcionário e decidir pela contratação ou não, pensando nisso, que bons serviços surgem para que você "venda seu peixe" de forma criativa.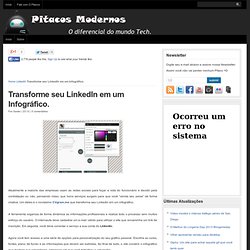 Um deles é o novíssimo CVgram.me que transforma seu Linkedin em um infográfico. A ferramenta organiza de forma dinâmica as informações profissionais e realiza todo o processo sem muitos esforço do usuário. O internauta deve cadastrar um e-mail válido para utilizar o site que encaminha um link de inscrição. LinkedIn Surpasses Myspace For U.S. Visitors To Become No. 2 Social Network; Twitter Not Far Behind.
Professional social network Linkedin surpassed Myspace in terms of traffic to become the No. 2 most visited social networking site in the U.S. in June.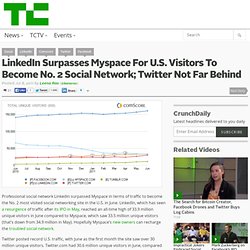 LinkedIn, which has seen a resurgence of traffic after its IPO in May, reached an all-time high of 33.9 million unique visitors in June compared to Myspace, which saw 33.5 million unique visitors (that's down from 34.9 million in May). Hopefully Myspace's new owners can recharge the troubled social network. Twitter posted record U.S. traffic, with June as the first month the site saw over 30 million unique visitors. Twitter.com had 30.6 million unique visitors in June, compared to 27 million unique vistors in May. The increase in traffic is actually a big win for Twitter, which splits traffic between its own mobile clients and the many third-party clients that are used to access the network.
---