Gaming
Infographic: Gamification Becomes Mainstream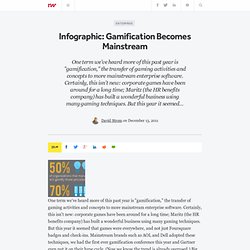 One term we've heard more of this past year is "gamification," the transfer of gaming activities and concepts to more mainstream enterprise software. Certainly, this isn't new: corporate games have been around for a long time; Maritz (the HR benefits company) has built a wonderful business using many gaming techniques. But this year it seemed that games were everywhere, and not just Foursquare badges and check-ins.
E3 2011 Is A Wrap!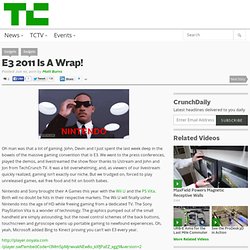 Oh man was that a lot of gaming. John, Devin and I just spent the last week deep in the bowels of the massive gaming convention that is E3. We went to the press conferences, played the demos, and livestreamed the show floor thanks to Ustream and John and Jon from TechCrunch TV.
Startup Jogos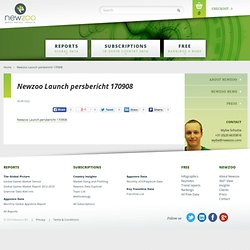 This service combines our annual global report and granular 2012-2016 datasets with 12 months of service including quarterly updates and custom analysis support. The report and granular data sets can also be acquired as separate items without updates and support. The granular data sets are reviewed quarterly and subscribers will receive an update per quarter for a full year.
International Games Market Data, Consulting and Publishing
Gamers are expected to spend billions of dollars in emerging markets this year such as Brazil, Mexico and Russia, according to market researcher Newzoo, based in Amsterdam. Newzoo's data shows that gaming is spreading rapidly around the globe, thanks to online play, mobile games, and new ways to pay for games such as free-to-play games with micro-transactions. In Brazil, gamers are expected to spend $2 billion on games in 2011. Online and mobile gaming accounts for 68 percent of time spent gaming and 51 percent of spending. "Brazil is leading Western countries when it comes to the popularity of new game platforms and business models," said Newzoo chief executive Peter Warman.
Emerging markets will spend billions on games this year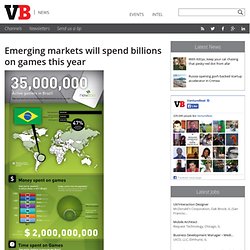 CHI 2011 Workshop
Overview | Call for Papers | Schedule | Papers | Participants | Organizers Update, April 18, 2011: The paper "Play Society Research Project" by Kuikkaniemi et al. has been replaced with a more recent version (also in the bundle). The "introductory papers" below are the original extended abstract for the workshop and a workshop paper we organizers wrote to wrap our heads around the term "gamification" – and we sincerely look forward to be challenged on that. We've collected all papers in one handy file for your convenience: Bundle of all workshop papers (PDF) Introductory papers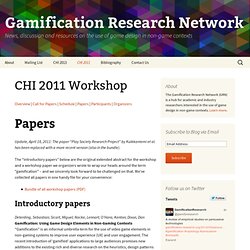 The Future of Gaming: a Portrait of the New Gamers