Data thoughtleadership unstructured
Thoughtleaders
A special report on managing information: Data, data everywhere. Speaker Slides & Video: Strata 2011 - O'Reilly Conferences, February 01 - 03, 2011. This presentation lays bare the dark underbelly of analytics in the enterprise.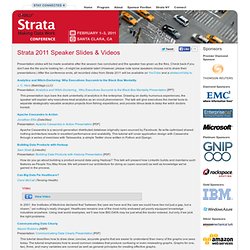 Drawing on darkly humorous experiences, the speaker will explain why executives treat analytics as an occult phenomenon. The talk will give executives the mental tools to separate strategically valuable analytics projects from fishing expeditions, and provide litmus tests to keep the witch doctors honest. Apache Cassandra is a second-generation distributed database originally open-sourced by Facebook. Its write-optimized shared-nothing architecture results in excellent performance and scalability. This tutorial will cover application design with Cassandra through a series of exercises with Twissandra, a simple Twitter clone written in Python and Django. Do You Have Too Much Data? - Improvisations - MIT Sloan Management Review. Does your organization have more data than it really knows what to do with?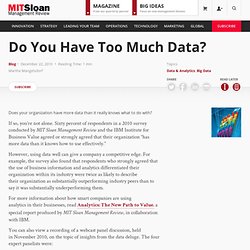 If so, you're not alone. Sixty percent of respondents in a 2010 survey conducted by MIT Sloan Management Review and the IBM Institute for Business Value agreed or strongly agreed that their organization "has more data than it knows how to use effectively." Sustainable Development. In his remarks (below, as prepared), he described how forward-thinking leaders in business, government and civil society around the world are capturing the potential of smarter systems to achieve economic growth, near-term efficiency, sustainable development and societal progress.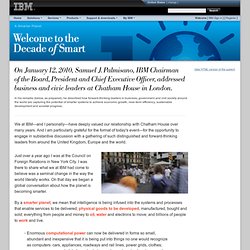 We at IBM—and I personally—have deeply valued our relationship with Chatham House over many years. And I am particularly grateful for the format of today's event—for the opportunity to engage in substantive discussion with a gathering of such distinguished and forward-thinking leaders from around the United Kingdom, Europe and the world. We believe in this. And because we believe these solutions are within reach for business and society, we have committed the resources of the IBM company to making smarter systems a reality in every part of the world. In the year since we began this conversation, we have learned a great deal. OreillyMedia's Channel.
---