Business models in semantic web
I currently write my master thesis on "Success factors of data-centric business models" at University of Regensburg (Germany) and in cooperation with Detecon Consulting. Data-centric business models try to describe emerging business models that are mainly based on leverage data and information exchange with users, communities and partners. As we have observed, companies that adopt a data-centric business model such as Google or Amazon, generate most of their revenues from handling and processing of data or information. A in depth overview over the methodology and also some examples for data-centric business models such as nike+, Goldcorp, social media aggregation and restaurant reviews can be found in the presentation here.
Survey/Feedback Data-centric business models – Lukas Feuerstein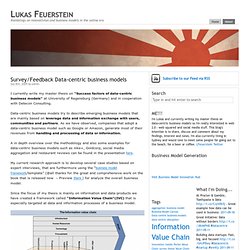 Following up on a number of requests for information, we have discussed the situation with the team at Strategyzer responsible for the program. To qualify for the certified trainer program one must have attended a 2-day masterclass delivered by Alexander Odsterwalder. As well there is an on-line application process in which one must demonstrate their use of the BMG approach and tools with clients.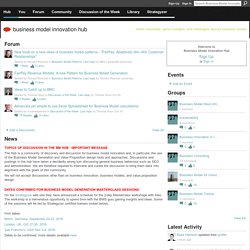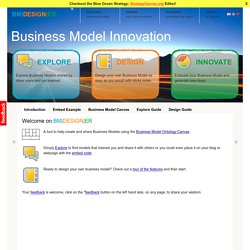 Welcome on BM|DESIGN|ER A tool to help create and share Business Models using the Business Model Ontology Canvas. Simply Explore to find models that interest you and share it with others or you could even place it on your blog or webpage with the embed code. Ready to design your own business model? Check out a tour of the features and then start.