Mixture of pearls-Stuff that I've found
Orfield Laboratories has an anechoic chamber like this one created by Eckel Industries. Picture: Courtesy of Eckel Industries It's official - the certificate stating Orfield Laboratories is the quietest place in the world.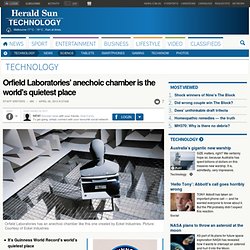 Orfield Laboratories' anechoic chamber is the world's quietest place | Space, Military and Medicine
» Listen to your Internal Organs at the "Anechoic Chamber" Zazen Life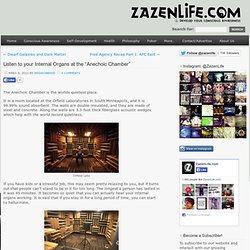 April 6, 2012 by breakinbadd The Anechoic Chamber is the worlds quietest place. It is a room located at the Orfield Laboratories in South Minneapolis, and it is 99.99% sound absorbent. The walls are double-insulated, and they are made of steel and concrete. Along the walls are 3.3-foot thick fiberglass acoustic wedges which help with the world record quietness. Orfield Labs
Get free, high-quality workouts on Lionsgate BeFit that are sure to keep you looking and feeling your best! Re-shape your body, burn fat, and sculpt lean muscle as you work out with top fitness trainers like Jillian Michaels, Denise Austin, Jane Fonda, Billy Blanks Jr., Scott Herman, Samantha Clayton, Garrett Amerine, Rainbeau Mars, Bryan Tanaka, Sadie Nardini, Dr. Deepak Chopra, Envy Girls, Kym Johnson, Tara Stiles, and many more. Slim your waistline and tone your arms, legs, abs, chest and butt right from your living room for free!
they are all over pinterest....(i still am not signed up for pinterest because i don't have time for one more thing but browsing is fun!) so we made one. i took a box of 64 crayons and took out the blacks and browns.i used another small box and doubled up on the good colors i liked and hot glued them to the top of our canvas. then we turned our blow dryer to hot on high. not long after you set the hair dryer by the crayons they get shiny and then the wax starts to melt!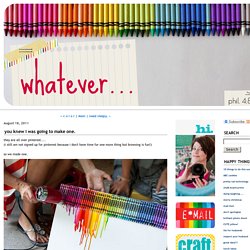 Water Level 9,40m ...
3248930_460s.jpg (JPEG Image, 460 × 5047 pixels)
autumn-leaves-japan_25290_990x742.jpg (JPEG Image, 989 × 742 pixels) - Scaled (81%)
Discover Yourself!
December 26, 2011 by @dieselpokers This article stems from my last post titled Top 5 Reasons You Don't Meditate You should also read my article The Seven Human Energy Chakras if you want a background on how amazing the human mind and body really is.
» Top 5 Reasons You Should Meditate Zazen Life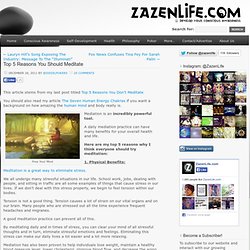 Intrepid Earth | The world from your desktop...
» Strange Place: Was the "Eye of The Earth" Created by Extraterrestrials? Zazen Life
December 29, 2011 by breakinbadd Imagine being in space and looking down at Earth. Looking at the Richat Structure from space That image is simply amazing, but now imagine seeing an eye on the surface of the Earth that is looking back at you. This is what Astronauts see when they are looking down from space at the Richat Structure, an amazing add to the strange place collection.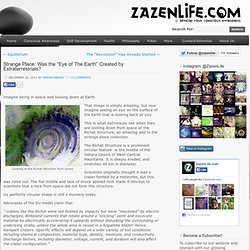 The Richat Structure: The Eye of the Earth
"QUANTUM SHOT" #271 Link - article by Avi Abrams Spectacular formation remains a puzzle The Richat Structure, Oudane, Mauritania, is not really a "structure" per se, but a huge circular formation (50 km in diameter - 30 miles) that somewhat resembles a human eye when looked upon from space. Originally thought to be a crater, this volcanic dome is most likely a product of erosion, an ancient geological artifact in the middle of featureless Maur Adrar desert, in Africa's Western Sahara.
» Electronic Tattoo: Monitors Vital Organs Zazen Life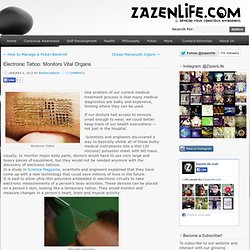 January 6, 2012 by breakinbadd Electronic Tattoo One problem of our current medical treatment process is that many medical diagnostics are bulky and expensive, limiting where they can be used. If our doctors had access to sensors small enough to wear, we could better keep track of our health everywhere — not just in the hospital. Scientists and engineers discovered a way to basically shrink all of these bulky medical instruments into a thin (30 microns) polyester sheet with NO mass. Usually, to monitor major body parts, doctors would have to use very large and heavy pieces of equipment, but they would not be needed anymore with the discovery of electronic tattoos.
February 20, 2012 by breakinbadd Zombie Adventure Have you ever watched a zombie movie and said to yourself "I kind of wish this happened in real life"?
» Simulated Zombie Apocalypse in Florida Zazen Life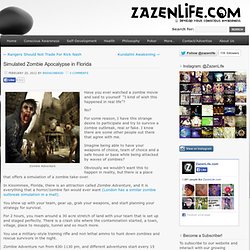 Experience Days & Gift Experiences | Wish.co.uk
March 31, 2012 by breakinbadd Take part in a zombie outbreak while using the resources of a shopping mall.. Sounds a lot like the movie Dawn of the Dead, right?
» Survive a Mall Full of Zombies! Zazen Life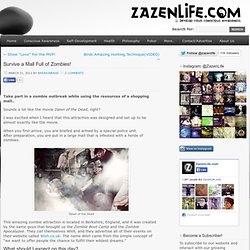 February 2, 2012 by @dieselpokers The Razr "Imperator" High-Speed Laser Gaming Mouse Part XII: Playing Online Poker If you want to play online and become a serious winning player, you will need the right equipment to multi-table effectively. You will need the following: All these links lead to the products I use.
» My Complete Poker Manifesto, Part XIII: My Online Poker Equipment Zazen Life
Off the shore of Brazil, almost 93 miles away from São Paulo downtown, is Ilha de Queimada Grande. The island is untouched by human developers, and for very good reason. Researchers estimate that on the island live between one and five snakes per square meter. The snakes live on the many migratory birds (enough to keep the snake density remarkably high) that use the island as a resting point. "Between one and five snakes per square meter" might not be so terrible if the snakes were, say, 2 inches long and nonvenomous.
Snake Island - Ilha de Queimada Grande located in Sao Paulo, Brazil
China Wholesale Electronics - iPhone accessories, iPad accessories Cell Phone Accessories at Mart-shopping.com
Make It Real Challenge
» 10 Major Health Benefits of Marijuana Zazen Life