Relaxedpro
Evolutionary Psychology and Biology Applied to Health, Business, and Relationships. Mind Control 101. The Quantum Thief. The Quantum Thief is the debut science fiction novel by Hannu Rajaniemi and the first novel in a planned trilogy[1] featuring Jean le Flambeur.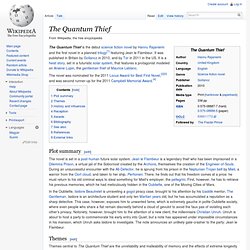 It was published in Britain by Gollancz in 2010, and by Tor in 2011 in the US. It is a heist story, set in a futuristic solar system, that features a protagonist modeled on Arsène Lupin, the gentleman thief of Maurice Leblanc. The novel was nominated for the 2011 Locus Award for Best First Novel,[2][3] and was second runner-up for the 2011 Campbell Memorial Award.[4] Plot summary[edit]
Social Interaction and Social Structure. Chapter 5: Sociology, Schaefer and Lamm, 1995-2012 Neal Shover and Burglars: Division of labor, status and roles, group structure, connections through fence to police etc., the GOOD BURGLAR.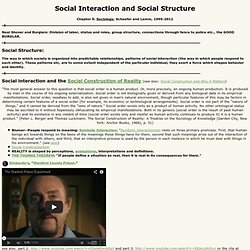 Social Structure: The way in which society is organized into predictable relationships, patterns of social interaction (the way in which people respond to each other). These patterns etc, are to some extent independent of the particular individual, they exert a force which shapes behavior and identity.
Social Dynamics
Science. Virtual Reality.
---