Web Marketing
10 Marketing Resources Every App Should Provide | Web.AppStorm
This is for all you web app developers out there. There are ten resources every app should make easily available to members of the press, including bloggers, via their website. These are resources for people interested in sharing information, reviews or thoughts about your web app — with a few being tremendously helpful for your users. If you offer a web app or service, you need to check this list to see what kind of marketing you're missing. Why? These are the top ten application and service resources, for both web and desktop, I find commonly missing.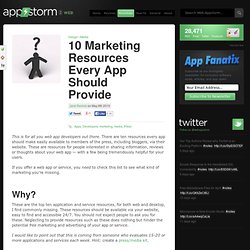 Email Marketing : Guillaume Fleureau | Blog Au coeur de l'email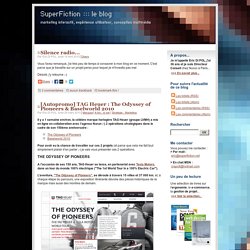 The Odyssey of Pioneers Baselworld 2010 (et parce que cela me fait tout simplement plaisir d'en parler ;-) je vais vous présenter ces 2 opérations.
Cyril Attias, le fondateur de l'agence des Médias Sociaux, gère la communication social media de AXA Banque et de Soon, sa nouvelle offre 100% mobile. Nous avons beaucoup entendu parler de Soon ces derniers mois sur les médias sociaux, articles de blog, tweets et posts sur les réseaux… c'est pourquoi, j'ai décidé de lui poser quelques questions au sujet de cette offre : Explication du concept et avantages par rapport aux concurrents, focus sur ses principales fonctionnalités, présentation de sa stratégie de lancement et du levier de communication principal : les médias sociaux. Présentation du concept Soon Soon est la nouvelle offre 100% mobile d'AXA Banque, peux-tu nous expliquer son intérêt ?