Cooking
This Infographic Tells you How to Best Use Herbs in Your Cooking. Common Cooking Mistakes: Cooking Tips and Questions Answered. Every cook, being human, errs, bungles, botches, and screws up in the kitchen once in a while.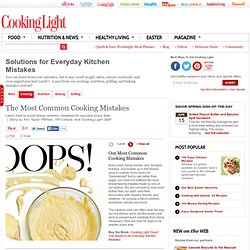 If you have not "caramelized" fruit in salt rather than sugar, you have not suffered the most embarrassing mistake made by one of our editors. We did not have to look much farther than our staff―and their encounters with readers, friends, and relatives―to compile a list of common, avoidable culinary boo-boos. The creative cook can often cook her way out of a kitchen error, but the smart cook aims to prevent such creativity from being necessary. My Kitchen is Perfect - StumbleUpon.
15 Basic Stir Fry Sauce Recipes (Food and Whine) I love a good stir fry and they are a great way to use up odds and ends of meat, vegetable and noodles.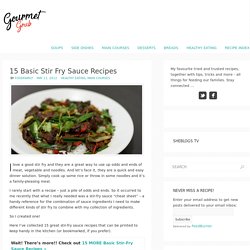 And let's face it, they are a quick and easy dinner solution. Simply cook up some rice or throw in some noodles and it's a family-pleasing meal. Most gawked all-time. How to Make Brownie in a Mug.
Recipes. Sweets. Indian Masala Chai Tea Recipe - Made Just Right. Masala Chai Tea is one of the most popular beverages in all of India.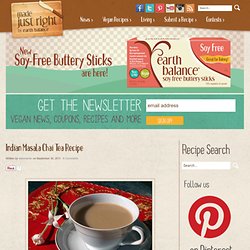 The exact recipes for chai tea vary by region and can be made with various different spices, though this recipe combines some of the most popular into one delicious hot drink… or you can even serve it over ice for a refreshing iced chai "latte"! Ingredients: 2 cups of water 1 cup Earth Balance® Original Soymilk 2 teaspoons black tea leaves (good choices: Assam, English Breakfast, Earl Grey, Darjeeling) 1 cardamom pod 1 clove 1/2 inch piece of ginger 1/4 inch piece of cinnamon stick Sugar to taste In a sauce pot, combine the Earth Balance® Soymilk, water and spices, bring to a boil.
When it begins to boil, add the tea leaves and keep on a rolling boil for 2 minutes or till the tea leaves are brewed and the tea has a dark golden color. Add sugar to taste.
---