Reseaux sociaux
Reworld - Le réseau social solidaire
Muxi : réseau social organisé par métier
WiseStamp Email Signatures » The Best Email Apps for You!
Observatoire des réseaux sociaux - Vague 6
Reseaux sociaux d'enteprises
Seesmic - Seesmic connects you wherever you are.
The Web 2.0 Summit Map - The Data Frame
Social Media: The Five-Year Forecast
The distinction between traditional and innovative marketing will become significantly more pronounced as the socially driven online communities continue to gain momentum, according to a Forrester Research report released today. "The Future of the Social Web," by Jeremiah Owyang, a Forrester senior analyst, examines the monumental changes that have shaped -- and will continue to impact -- how consumers engage with each other. That engagement, Owyang writes, will affect the way each company reaches its customers -- and more important, their influencers. "The community will take charge," Owyang tells CRM magazine in a one-on-one interview, "and that's going to happen whether or not marketers or brands participate."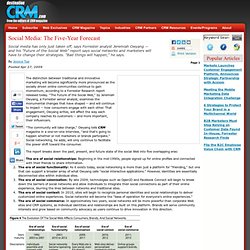 Be The Curator of Your Favorite Topic!
janvier 20, 2011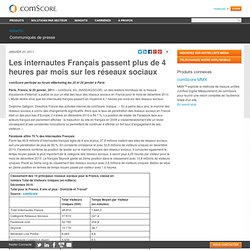 Les internautes Français passent plus de 4 heures par mois sur les réseaux sociaux
Le projet Google+ : partagez le Web comme vous le vivez
50 astuces pour mieux utiliser google plus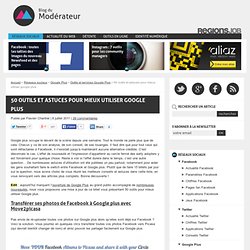 Google plus occupe le devant de la scène depuis une semaine.
Inscription
Welcome to Facebook - Log In, Sign Up or Learn More
Create a Facebook Page | Custom Fan Page Design - Pagemodo
Facebook CRM Platform - AgoraPulse (fr)
40 services à connaître pour mieux utiliser Facebook
Dans la vague des réseaux sociaux, Facebook s'impose auprès de toutes les générations. Malgré la concurrence des autres réseaux comme Twitter, Linkedin… Facebook, grand public et généraliste, se maintient et augmente son nombre d'inscrit. Après 6 ans d'existence on compterait près de 180 millions d'utilisateurs du réseau communautaire Facebook en Europe avec plus de 20 millions en France.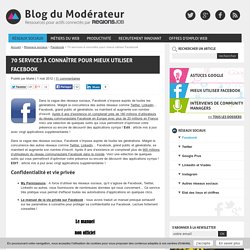 Pages Analyzer par Mediaventilo, bien plus que Facebook insights pour les community manager
Les tout derniers chiffres des réseaux sociaux - septembre 2011 | Arobasenet
Il y a à peine 5 ans, on ne parlait pas autant des réseaux sociaux. Mais, aujourd'hui ces médias sociaux font partie de notre vie quotidienne, tant privée que professionnelle. Raison pour laquelle, de temps en temps, nous scrutons leurs différents chiffres afin de nous assurer de leur "santé".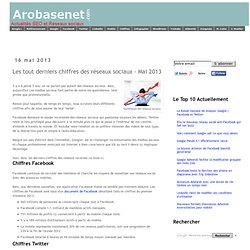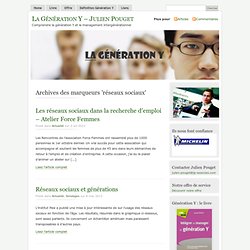 Les Rencontres de l'association Force Femmes ont rassemblé plus de 1000 personnes le 1er octobre dernier. Un vrai succès pour cette association qui accompagne et soutient les femmes de plus de 45 ans dans leurs démarches de retour à l'emploi et de création d'entreprise. A cette occasion, j'ai eu le plaisir d'animer un atelier sur [...] Lisez l'article complet
Réseaux Sociaux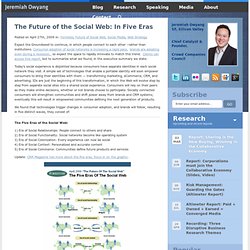 Expect the Groundswell to continue, in which people connect to each other –rather than institutions. Consumer adoption of social networks is increasing a rapid pace, brands are adopting even during a recession, so expect the space to rapidly innovate to match this trend. Clients can access this report, but to summarize what we found, in the executive summary we state:
The Future of the Social Web: In Five Eras
10 raisons pour lesquelles on finit par désactiver son compte facebook... - Annabelle - carnet de voyages, carnets de vie...
Comment les jeunes vivent-ils et apprennent-ils avec les nouveaux médias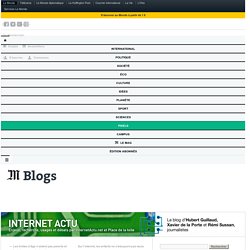 D'où que l'on regarde, quand on parle du rapport des jeunes à l'Internet et aux réseaux sociaux, tout le monde évoque d'abord les risques, les dangers, les menaces qui pèsent sur eux.