Ocean bleu
Blue Ocean Strategy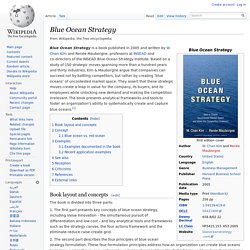 Blue Ocean Strategy is a book published in 2005 and written by W. Chan Kim and Renée Mauborgne, Professors at INSEAD and Co-Directors of the INSEAD Blue Ocean Strategy Institute. Based on a study of 150 strategic moves spanning more than a hundred years and thirty industries, Kim & Mauborgne show that companies can succeed not by battling competitors, but rather by creating ″blue oceans″ of uncontested market space.
ocean bleu
Blue Ocean Strategy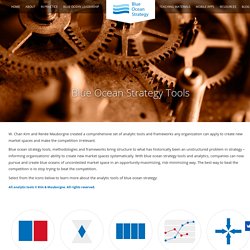 What blue ocean strategy seeks to do is to make the creation and capturing of blue oceans as systematic and actionable as competing in the red waters of known market space. For although blue ocean strategists have always existed, for the most part their strategies have been largely unconscious. Blue ocean strategy seeks to remedy this by not only decoding the pattern and principles behind the successful creation of blue oceans, but also providing the analytical frameworks and tools to act on this insight.
« Nous réalisons que ce que nous accomplissons n'est qu'une goutte dans l'océan. Mais si cette goutte n'existait pas dans l'océan, elle manquerait. » [Mère Teresa] (crédit photo) Certaines décisions se réfléchissent et d'autres se vivent sous l'impulsion.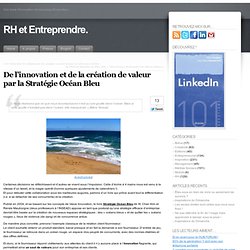 De l'innovation et de la création de valeur par la Stratégie Océan Bleu | Le Blog de Jean-Noël Chaintreuil
Stratégie Océan Bleu - La méthodologie (ZBA) - a Actu et Politique video
Stratégie Océan Bleu - Concepts de base - a Expression Libre video