Regis.tarantini
jBPM. jBPM is a flexible Business Process Management (BPM) Suite.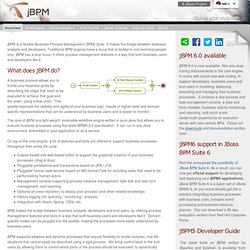 It makes the bridge between business analysts and developers. Traditional BPM engines have a focus that is limited to non-technical people only. jBPM has a dual focus: it offers process management features in a way that both business users and developers like it. What does jBPM do? A business process allows you to model your business goals by describing the steps that need to be executed to achieve that goal and the order, using a flow chart. yFiles.
Intalio. Liste modélisation. Model Sphere. Questetra. Liste des moteurs de workflow. Un article de Wikipédia, l'encyclopédie libre.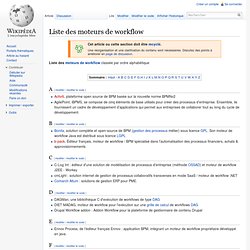 Liste des moteurs de workflow classée par ordre alphabétique A[modifier | modifier le code] Activiti, plateforme open source de BPM basée sur la nouvelle norme BPMNv2AgilePoint, iBPMS, se compose de cinq éléments de base utilisés pour créer des processus d'entreprise. Ensemble, ils fournissent un cadre de développement d'applications qui permet aux entreprises de collaborer tout au long du cycle de développement. B[modifier | modifier le code] Adonis. We are happy to announce that a new version of ADONIS:Community Edition is now available.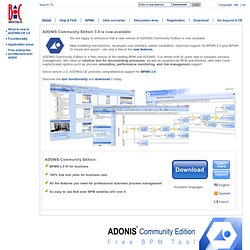 New modelling mechanisms, revamped user interface, easier installation, improved support for BPMN 2.0 plus BPMN DI import and export – are only a few of the new features. ADONIS:Community Edition is a free version of the leading BPM tool ADONIS. Bonita. FlowMind. Activiti. Bizagi. Discover how Bizagi makes your business more agile. 5 minute video tour Get started today Learn how to automate your business processes and become a BPM expert!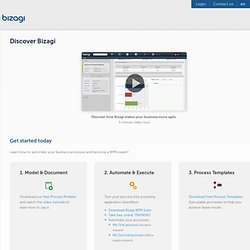 Support and product documentation. Integram. ProcessMarker. uEngine. Liste modélisation.
---