Regis.tarantini
jBPM is a flexible Business Process Management (BPM) Suite. It makes the bridge between business analysts and developers. Traditional BPM engines have a focus that is limited to non-technical people only. jBPM has a dual focus: it offers process management features in a way that both business users and developers like it. What does jBPM do? A business process allows you to model your business goals by describing the steps that need to be executed to achieve that goal and the order, using a flow chart.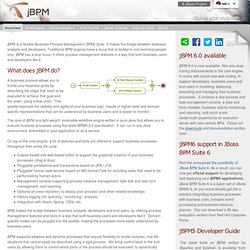 yFiles
Intalio
Liste modélisation
Model Sphere
Questetra
Un article de Wikipédia, l'encyclopédie libre. Liste des moteurs de workflow classée par ordre alphabétique A[modifier | modifier le code] Activiti, plateforme open source de BPM basée sur la nouvelle norme BPMNv2AgilePoint, iBPMS, se compose de cinq éléments de base utilisés pour créer des processus d'entreprise. Ensemble, ils fournissent un cadre de développement d'applications qui permet aux entreprises de collaborer tout au long du cycle de développement. B[modifier | modifier le code]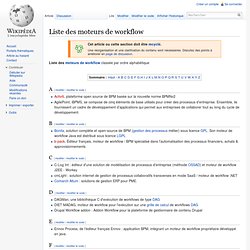 Liste des moteurs de workflow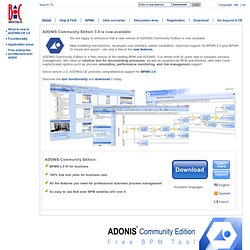 Adonis
We are happy to announce that a new version of ADONIS:Community Edition is now available. New modelling mechanisms, revamped user interface, easier installation, improved support for BPMN 2.0 plus BPMN DI import and export – are only a few of the new features. ADONIS:Community Edition is a free version of the leading BPM tool ADONIS.
FlowMind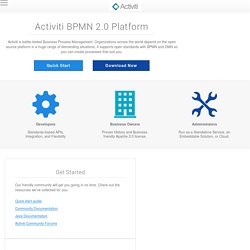 Activiti is a light-weight workflow and Business Process Management (BPM) Platform targeted at business people, developers and system admins. Its core is a super-fast and rock-solid BPMN 2 process engine for Java. It's open-source and distributed under the Apache license. Activiti runs in any Java application, on a server, on a cluster or in the cloud. It integrates perfectly with Spring, it is extremely lightweight and based on simple concepts.
Discover how Bizagi makes your business more agile. 5 minute video tour Get started today Learn how to automate your business processes and become a BPM expert! Support and product documentation
Bizagi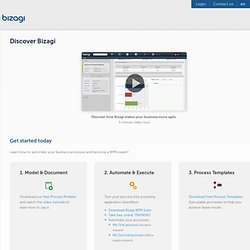 Integram
Fournisseur de solutions hébergées de gestion des flux de documents et d'Information, nous permettons aux organisations de gérer de façon électronique leurs processus métiers dans un but de rationnalisation et d'amélioration de la productivité. en savoir plus Gestion de vos workflow métiers et administratifs Optez pour une plate-forme 100% web pour la gestion de vos processus métiers afin de : industraliser vos flux d'Information.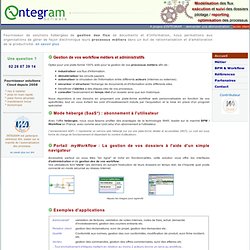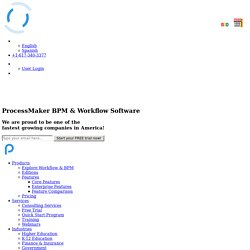 The success of many VARs in the open source ecosystem is based on their ability to repackage open source software into a user-friendly platform... look no further than ProcessMaker, the workflow package from Colosa that debuted a much-enhanced version. ProcessMaker has helped us improve the efficiency of our employees. Instead of running around to get approvals, we now have a software based process management. " Pinkesh Jain, Finance Manager, Lakozy Toyota success story More Testimonials ProcessMaker is a very flexible, easy-to-use solution. Lenovo would recommend it to anyone who is looking for workflow improvements or even just to simplify their processes" Denes Trestyanszki, Call center operations leader, Lenovo success story More Testimonials With ProcessMaker in place, we can manage our commercial processes and ensure our business runs smoothly, from the creation of a proposal to the shipment of our products."
uEngine
Liste modélisation