Regis.tarantini
jBPM is a flexible Business Process Management (BPM) Suite.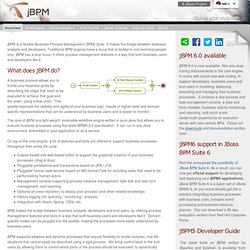 yFiles
Intalio
Liste modélisation
Bienvenue ! Pour rester au courant sans avoir à venir sur le site souscrivez au RSS feed .
Model Sphere
Questetra
Un article de Wikipédia, l'encyclopédie libre. Liste des moteurs de workflow classée par ordre alphabétique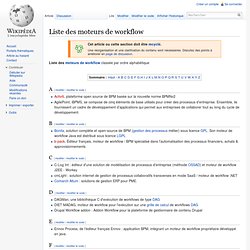 Liste des moteurs de workflow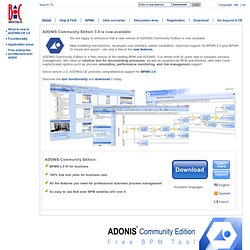 Adonis
We are delighted to announce that ADONIS:CE 2.0 is now available for download . The tool you cherish for its unique " easy to use, yet powerful " approach just got better thanks to the addition of BPMN 2.0 (3 diagram types: Business Process Diagram, Choreography Diagram, Conversation Diagram), new streamlined installation process, and dozens of other improvements. Discover the new functionalities of this release and download it today.
FlowMind
Discover how Bizagi makes your business more agile. 5 minute video tour
Bizagi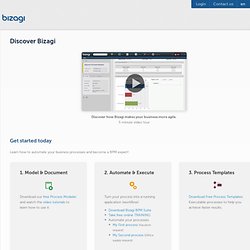 Integram
uEngine
Liste modélisation
Spécialiste reconnu de l'architecture d'entreprise et de la GRC (gouvernance, risque et conformité), MEGA compte plus de 75.000 utilisateurs dans plus de 40 pays de ses produits logiciels traduits en 5 langues. Depuis 1991, MEGA accompagne les grandes entreprises privées et publiques, en leur fournissant outils et prestations de conseil, pour comprendre et réduire la complexité de leurs opérations, mettre en œuvre les contrôles internes adéquats, et gérer leurs risques.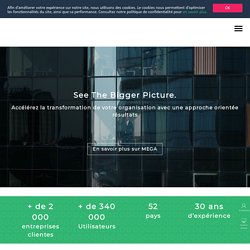 Mega Process
Popkin