Inbound / Content Marketing
3 Website Analytics You Can Improve in 2 Weeks or Less
3 Website Analytics You Can Improve in 2 Weeks or Less Posted by Sam Lowe on Tue, Apr 08, 2014 @ 08:30 AM Analytics are a vital aspect to any marketing effort and especially for inbound marketing. Most marketers haven't ever had this much quality data at their fingertips, so things can get a little overwhelming.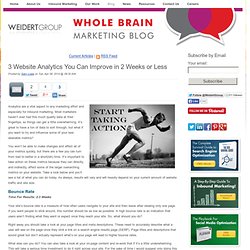 Can Gratitude Reduce Costly Impatience?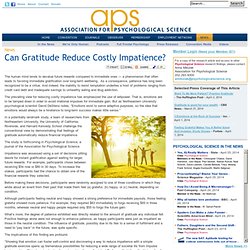 News The human mind tends to devalue future rewards compared to immediate ones — a phenomenon that often leads to favoring immediate gratification over long-term wellbeing. As a consequence, patience has long been recognized to be a virtue. And indeed, the inability to resist temptation underlies a host of problems ranging from credit card debt and inadequate savings to unhealthy eating and drug addiction. The prevailing view for reducing costly impatience has emphasized the use of willpower.
As bloggers, we love to use images in our posts. For one, they make your blog more attractive. For another, they help break up the text of your posts. And lastly, as we all know, no one reads on the internet anyway (haha, I kid.
Ethical and Legal Image Use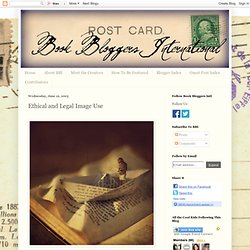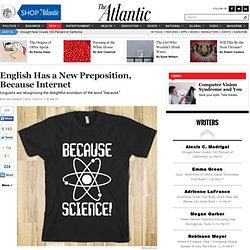 Let's start with the dull stuff, because pragmatism. The word "because," in standard English usage, is a subordinating conjunction, which means that it connects two parts of a sentence in which one (the subordinate) explains the other. In that capacity, "because" has two distinct forms. It can be followed either by a finite clause (I'm reading this because [I saw it on the web]) or by a prepositional phrase (I'm reading this because [of the web]). These two forms are, traditionally, the only ones to which "because" lends itself. I mention all that ... because language.
English Has a New Preposition, Because Internet - Megan Garber
Content Marketing With Research and Surveys: Pros, Cons, Examples, Best Practices - BLP Daily Digest, February 25, 2014 | Best Legal Practices
If you work in a marketing agency, or are a marketer in-house in a larger company, you probably know the answer to "what is owned, earned and paid media?". But we small business owners wear many hats. Marketing may be one of 6 or 7 responsibilities you have. In fact, you may have so many responsibilities that you've run out of hats (see cartoon above).
What Is "Owned, Earned and Paid Media"?
The hidden gem of content creation: interviews
As content becomes a more respected medium, readers expect more from content writers. It isn't enough to gab about any topic that strikes your fancy at 2 am when your readers expect a new post the next day – today's content writing requires preparation, research, and good prose. In short, content is beginning to take a few cues from journalism. And one area of content writing that I think could use a professional overhaul is the interview.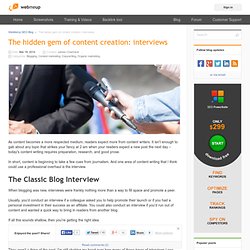 Answers to 18 SEO Questions You Were Too Afraid to Ask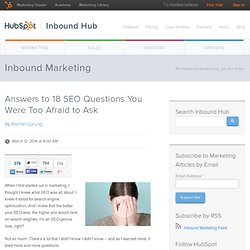 When I first started out in marketing, I thought I knew what SEO was all about. I knew it stood for search engine optimization. And I knew that the better your SEO was, the higher you would rank on search engines.
Trying something new for the first time can elicit a whole range of emotions. Whether you're nervous about the outcome or excited for the new challenge (or both!), there's always that element of the unknown. And I'll bet anyone who starts blogging for the first time can relate. Will people read my posts? Will it be worth the return on investment?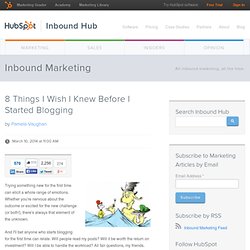 8 Things I Wish I Knew Before I Started Blogging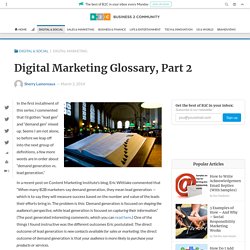 In the first installment of this series, I commented that I'd gotten "lead gen" and "demand gen" mixed up. Seems I am not alone, so before we leap off into the next group of definitions, a few more words are in order about "demand generation vs. lead generation." In a recent post on Content Marketing Institute's blog, Eric Wittlake commented that "When many B2B marketers say demand generation, they mean lead generation — which is to say they will measure success based on the number and value of the leads their efforts bring in. The problem is this: Demand generation is focused on shaping the audience's perspective, while lead generation is focused on capturing their information." (The post generated interesting comments, which you can read here.)
Digital Marketing Glossary, Part 2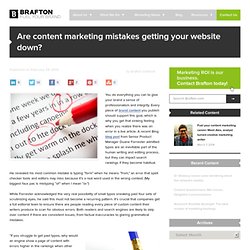 Are content marketing mistakes getting your website down?
Published on by Brafton Editorial You do everything you can to give your brand a sense of professionalism and integrity. Every piece of brand content you publish should support this goal, which is why you get that sinking feeling when you realize there was an error in a live article.
7 Little Call-to-Action Tweaks That Could Give Your Conversion Rates a Big Bump
At HubSpot, we're constantly A/B testing conversion path elements -- landing pages, calls-to-action (CTAs), and emails -- to see how we can generate more leads, MQLs, and customers. Having CTAs throughout your website and blog will certainly help your website visitors find your conversion pages. But are your CTAs effectively capturing people's attention? Try to guess which of these two CTAs had the highest clickthrough rate. Here's CTA #1: Here's CTA #2:
Attracting Leads Online Requires Patience and Google Webmaster Tools
Attracting Leads Online Requires Patience and Google Webmaster Tools Posted by Sam Lowe on Tue, Feb 25, 2014 @ 07:30 AM Your company's website can be a real workhorse when it comes to attracting leads, and because of that, it has to be running at peak efficiency at all times. We've preached before about how having great content is key and that's absolutely true – just don't forget about what's going on "under the hood" because that will make or break your online existence.
4 Steps to Failing with an Inbound Marketing Agency
Popular Today in Business: All Popular Articles There is a big ugly secret in the inbound marketing agency world; many (if not most) companies that start with inbound marketing fail. They try to sort out all their digital marketing internally and don't have the necessary time and expertise to get it right.
How LinkedIn's Recent Update Changes B2B Companies' Marketing Plans End of week on Friday, LinkedIn announced a new update that should have every company's marketing team buzzing. Instead of limiting your posts to just 300 characters, LinkedIn will allow users to write essay-length posts that will circulate within their networks, with the possible bonus of going public on LinkedIn Pulse, if the post receives enough network attention.
How LinkedIn's Recent Update Changes B2B Companies' Marketing Plans
Somehow, "Content Marketing" has hit the jackpot in terms of business memes, with every marketing person tossing the term around like it's some sort of magic elixir. But what exactly is content marketing? And how do you do it? I've cooked up a list of myths and truths of content marketing to help you wade through the hype.
Content Marketing Myths and Truths
A Visual Explanation of HTML5 With 5 Awe-Inspiring Examples
Content Marketing: How To Measure Content Performance Holistically
Content Marketing: How To Measure Content Performance Holistically
info.curata.com/rs/hivefire/images/Curata_ContentMarketingTacticsPlanner2014.pdf?mkt_tok=3RkMMJWWfF9wsRokvKvBZKXonjHpfsX56OopXKezlMI%2F0ER3fOvrPUfGjI4ARcJjI%2BSLDwEYGJlv6SgFSbDBMah21LgFWxk%3D
How to Recruit the Content Marketing Dream Team
SEMPO State of Search Marketing Report 2013
SEO Strategy Now Includes Content Marketing at 45 Percent of Companies
12 Inspiring Examples of Beautiful Blog Homepage Designs
Why Your Website Gets Less Traffic from Search Engines: It's Old
Slides and Videos
B2B Marketers to Up Spend on Content, Mobile in 2014
What's The Difference Between Google Places And Google+ For Businesses?
10 Content Marketing Failures – Do Not Try This At Home
Content marketing is another small business trend with big future
You've Said 'Yes' To Inbound Marketing. Now What? [INFOGRAPHIC]
Content-Marketing Startup Contently Raises $9M | Digital
4 Content Marketing Secrets Every Small Business Should Know | Marketing Tips
Will The Content Marketing Trends Continue? It Depends On Proving Your ROI
Content Marketing Ideas for 'Boring' Products
Content Marketing Examples: 4 Most Popular Curation Templates
This is Your Brain on Content Marketing
Why ROI measurement for inbound marketing fails | Strategic Air Marketing
Survey: 71% of marketers will increase content marketing budgets | B2B Management
Developing a Coherent Content Strategy
Are content marketing and inbound marketing the same thing?
How to Reach Content Marketing's Holy Grail: Revenue
[WEBINAR VIDEO] Strategies For Successful Content Marketing (Part 2) | Internet Marketing Inc
SEO: You're Now Being Graded on the Curve
SEO, Social Media And Digital Marketing--Don't Be A Dinosaur
The 2014 Marketing Score Report: An Inside Look at How Professionals Rate Their Marketing Potential and Performance
The 2014 Content Marketing Imperative
Marketing Strategy - B2B Lead Generation Trends for 2014: What's Hot and What's Not [Infographic]
Web Sites - Get Rid of Your Lousy 'About' Page Once and for All
Sales - B2B Lead Generation: What Top Performers Do Different
The 7 Steps of the Inbound Marketing Campaign Process
Holiday Retailers Misdirecting Consumer Web Traffic - MediaBuzz
2014 B2B Content Marketing Research: Strategy is Key to Effectiveness
The Top 7 Social Media Marketing Trends That Will Dominate 2014
The Top 7 Content Marketing Trends That Will Dominate 2014
Four Online Marketing Trends that Will Rule 2014
You Know You're a Content Marketer When… | Content Marketing