GRAMMATIK
Get flash to fully experience Pearltrees
Szántai Gábor német gyűjteménye
SCHUBERT Verlag
DAF - DAZ
Below you'll find a list of the grammar worksheets I've compiled over the last few years. All of these pages are my own compilations, but I can't claim credit for every single sentence or idea -- many of these worksheets were compiled from older textbooks and various internet sites, and the clip art comes from older textbooks and from freeware clip art collections. Please, if you do notice anything that appears to be a copyright infringement, I'd be more than happy to remove the offending material if you let me know . Feel free to use these as handouts or links for your own teaching, or for your own reference -- there's no need to give me credit. However, please do drop me a line if you plan on using them for anything other than classroom or instructional use. <p style="text-align:right;color:#A8A8A8"></p>
Teaching Materials • Lehrmaterialien
Grammatikaufgaben
Inhalt: Grammatikthemen Regeln und Übungen Lehrmaterial Lösungen der Grammatikaufgaben Auswertung und Ergebnisse der Kontrollarbeiten A) Wortstellung im Aussagesatz 1.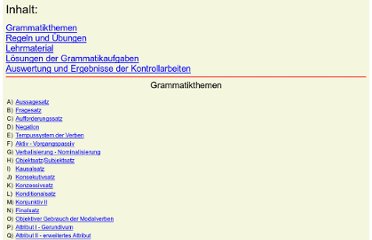 Grimm Grammar : masculine weak nouns : Schwache Substantive
Nouns : Schwache Substantive The grammatical gender of all so-called 'weak nouns' is masculine, with one exception: das Herz (the heart), which is neutral. A small group of masculine (+1 neuter) nouns only change form in the object positions: accusative , dative and genitive cases. Although not all of these nouns fit in tidy categories, there are a few helpful hints:
Grammatik: Linkliste
Achtung: Diese Seiten werden nicht mehr aktualisiert. Die aktuelle Version ist unter Deutsch lernen - Grammatik zu finden. Anmerkungen: Meine eigenen Beiträge (nur Kurzadressen dh. ohne http://www....) enhalten wie nach Schweizer Rechtschreibung üblich keine Eszett (ß), stattdessen wird immer Doppel-s geschrieben, auch nach einem langen Vokal oder einem Diphtong. Ich habe mir beim Erstellen der Materialien grosse Mühe gegeben, aber Fehler kommen vor.
Mittelschulvorbereitung Deutsch
bungen und Tests