Social Media and Sports
How to Wow Sports Fans with Social Media. "My kids, if I ever accidentally have some, will not go to school.
They will start twitter accounts and learn from the people."– Paul Bissonette, Phoenix Coyotes It's tweets like these that have made Phoenix Coyotes' enforcer Paul Bissonette generate a healthy following on social media. The Cleveland Indians Unveil 2012 Digital Media Initiatives | indians.com: News. New York Giants Tweetup. The New Look Seahawks. Alley-oop! How the Phoenix Suns Scored With Social Media. The Phoenix Suns have some serious pedigree in the world of basketball with two conference titles, six division titles, and 29 trips to the playoffs under their belt.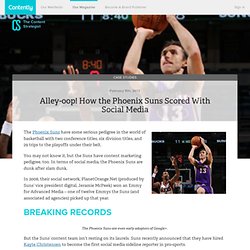 You may not know it, but the Suns have content marketing pedigree, too. In terms of social media, the Phoenix Suns are dunk after slam dunk. In 2008, their social network, PlanetOrange.Net (produced by Suns' vice president digital, Jeramie McPeek) won an Emmy for Advanced Media – one of twelve Emmys the Suns (and associated ad agencies) picked up that year. Breaking Records. Dallas Mavericks use Social Media to connect with Fans.
The NBA has the most followers in Social Media of any sports league in the nation.
Teams are encouraged to interact with their fans in Social Media and the Dallas Mavericks are one of the leaders in this space. The Mavericks Facebook & Twitter pages have over 2 million followers which makes them 7th best in the NBA. The Mavericks not only share video content, information, and stats but also have creative contests with their fans . One of the most popular contests is giving away free tickets to fans that dress and act the rowdiest outside the arena on game nights. Words With Mavs. Bayern Munich PR stunt fails on Facebook as fan emotions run high - Digital-Football.com | Digital-Football.com. [I am delighted to announce that the following article was written by Digital-Football's first guest blogger -Benjamin Stoll - who has kindly given up his time to write this article.
Benjamin is Munich based and a regular contributor to the #Digisport Twitter hashtag - so has great insight into not just the Social response to the stunt, but also why it particularly angered Bayern fans at this moment in time. We look forward to future articles from Benjamin and welcome additional article submissions from anyone who wants to have their say about Football and Social Media - just email Seanmichaelwalsh @ gmail.com] At 1 pm on their Facebook Fanpage (approx. 2.7 million fans) the club announced that they had signed a new player. 5 reasons Liverpool FC was voted best sports team on Twitter at Shorty Awards | UK Sports Network - Social Media & Sport. Liverpool Football Club's official Twitter feed @LFC has been voted the world's best by a sports team at the Shorty Awards in the USA.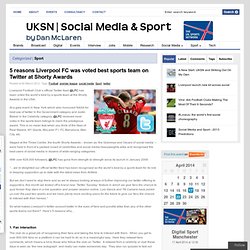 At a gala event in New York which also honoured NASA for best use of twitter in the Government category and Justin Bieber in the Celebrity category, @LFC received most votes in the sports team listings to claim the prestigious award. This is no mean feat when you think of the likes of Real Madrid, NY Giants, McLaren F1, FC Barcelona, Man City, etc. Staged at the Times Centre, the fourth Shorty Awards – known as 'the Grammys and Oscars of social media' – were held in front of a packed crowd of celebrities and social media heavyweights alike and recognised the best users of social media in dozens of wide-ranging categories.
How Much Do Sports Fans Love Social Media? [INFOGRAPHIC] Sports and social media are a marriage made in heaven.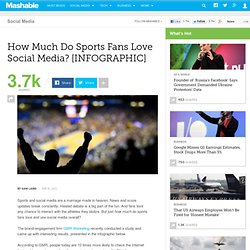 News and score updates break constantly. Heated debate is a big part of the fun. Half of Sports Fans Visit Bathroom to Check Scores on Mobile Device [STUDY] At the game, in the car, at home and even in the bathroom, sports junkies need their fix.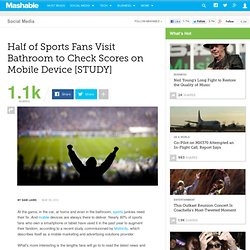 And mobile devices are always there to deliver. Nearly 80% of sports fans who own a smartphone or tablet have used it in the past year to augment their fandom, according to a recent study commissioned by Motricity, which describes itself as a mobile marketing and advertising solutions provider. What's more interesting is the lengths fans will go to to read the latest news and scores. Exactly half of sports fans have taken their device with them to the bathroom to check scores, in a 21st century update to the 'on the can yet still a fan' concept from the film Edtv. Roughly a quarter of fans have checked up on a game during a work meeting or while in the movies. Moving beyond like: How one team monetized Facebook base.
In the social media game, the first metric anyone looks at is the number of "likes" a fan page has accumulated.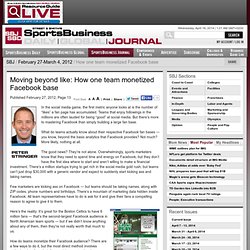 Teams that enjoy followings in the millions are often lauded for being "good" at social media. But there's more to mastering Facebook than simply building a large fan base. What do teams actually know about their respective Facebook fan bases — you know, beyond the basic analytics that Facebook provides? Boston Celtics staying on top of social media marketing at SES Chicago! Twitter helps Celts generate their own buzz.
---