Gestion de l'imaginaire
Bellorophon. Persée. Persée est le fils de Zeus et de Danaé, la fille du roi d'Argos, Acrisios.
C'est un Héros qui fut mêlé à plusieurs aventures, dans la mythologie grecque. Un oracle ayant prédit à Acrisios que son petit fils le tuerait, il enferma Danaé sa fille unique dans une tour isolée afin qu'elle n'ait pas d'enfant. Mais Zeus, possesseur de tous les pouvoirs s'infiltra dans la prison de Danaé pour la séduire. Danaé donna naissance à un fils, Persée, ce qui mit Acrisios dans une colère folle. Athéna Parthénos. Filles du feu. Un article de Wikipédia, l'encyclopédie libre.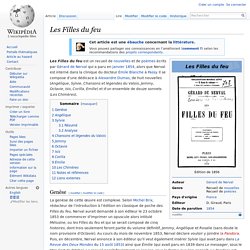 Genèse[modifier | modifier le code] La genèse de cette œuvre est complexe. Selon Michel Brix, rédacteur de l'introduction à l'édition en classique de poche des Filles du feu, Nerval aurait demandé à son éditeur le 23 octobre 1853 de commencer d'imprimer un opuscule alors intitulé Mélusine, ou les Filles du feu et qui se serait composé de cinq histoires, dont trois seulement feront partie du volume définitif, Jemmy, Angélique et Rosalie (sans doute le nom provisoire d'Octavie). Pandora. Pandora (1861), by Pierre Loison (1816–1886) According to the myth, Pandora opened a jar (pithos), in modern accounts sometimes mistranslated as "Pandora's box" (see below), releasing all the evils of humanity—although the particular evils, aside from plagues and diseases, are not specified in detail by Hesiod—leaving only Hope inside once she had closed it again.[6] She opened the jar out of simple curiosity and not as a malicious act.[7] The myth of Pandora is ancient, appears in several distinct Greek versions, and has been interpreted in many ways.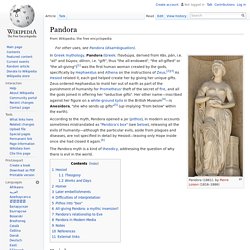 In all literary versions, however, the myth is a kind of theodicy, addressing the question of why there is evil in the world. In the seventh century BC, Hesiod, both in his Theogony (briefly, without naming Pandora outright, line 570) and in Works and Days, gives the earliest literary version of the Pandora story; however, there is an older mention of jars or urns containing blessings and evils bestowed upon humanity in Homer's Iliad: Espérance.
Jeu fiction
---