Gestion de l'imaginaire (1)
Parerga and Paralipomena (Schopenhauer)
Parerga and Paralipomena ( Greek , "Appendices and Omissions") is a collection of philosophical reflections by Arthur Schopenhauer published in 1851. [ 1 ] The selection was compiled not as a summation of or introduction to Schopenhauer's philosophy, but as augmentary readings for those who had already embraced it, [ 2 ] although the author maintained it would be comprehensible and of interest to the uninitiated nevertheless. The collection is divided into two volumes, covering first the parerga and thereafter the paralipomena to that philosophy. The parerga are six extended essays intended as supplementary to the author's thought. The paralipomena , short ruminations divided by topic into thirty-one subheadings, cover material hitherto unaddressed by the philosopher but deemed by him to be complementary to the parerga . [ 2 ]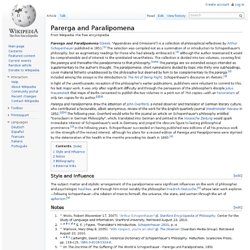 mythe de Pandore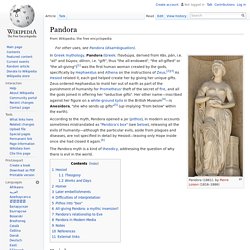 Pandora (mythe d'Eve)
Pandora (1861), by Pierre Loison (1816–1886) In Greek mythology , Pandora ( Greek , Πανδώρα , derived from πᾶς "all" and δῶρον "gift", thus "all-gifted" or "all-giving") [ 1 ] was the first human woman. [ 2 ] As Hesiod related it, each god helped create her by giving her unique gifts. Zeus ordered Hephaestus to mold her out of earth as part of the punishment of humanity for Prometheus ' theft of the secret of fire , and all the gods joined in offering her "seductive gifts". Her other name, inscribed against her figure on a white-ground kylix in the British Museum, [ 3 ] is Anesidora , "she who sends up gifts," [ 4 ] up implying "from below" within the earth.
Pandora' box
Vanity (Pandora)
Komos ritualistic_drunken (Dyonisos)
The Kōmos ( Greek : κῶμος ; pl. kōmoi) was a ritualistic drunken procession performed by revelers in ancient Greece, whose participants were known as komasts (κωμασταί, kōmastaí ). Its precise nature has been difficult to reconstruct from the diverse literary sources and evidence derived from vase painting. The earliest reference to the komos is in Hesiod 's Shield of Herakles , which indicates it took place as part of wedding festivities (line 281). And famously Alcibiades gate-crashes the Symposium while carousing in a komos. However, no one kind of event is associated with the komos: Pindar describes them taking place at the city festivals (Pythian 5.21, 8.20, Olympian 4.9), while Demosthenes mentions them taking places after the pompe and choregoi on the first day of the Greater Dionysia (Speeches 21.10), which may indicate the komos might have been a competitive event.
An early 5th c. BCE depiction of Heracles (left) fighting Cycnus (Attic black-figure amphora , found at Nola ) The Shield of Heracles ( Greek : Ἀσπὶς Ἡρακλέους , Aspis Hērakleous ) is an archaic Greek epic poem that was attributed to Hesiod during antiquity. The subject of the poem is the expedition of Heracles and Iolaus against Cycnus , the son of Ares , who challenged Heracles to combat as Heracles was passing through Thessaly . To serve as an introduction, fifty-six lines have been taken from the Hesiodic Catalogue of Women .
Shield of Heracles
iconoclasme (en allemand)
Iconoclasme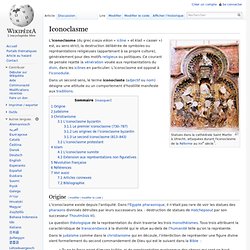 Un article de Wikipédia, l'encyclopédie libre. Statues dans la cathédrale Saint Martin à Utrecht, attaquées durant l'iconoclasme de la Réforme au XVI e siècle [ 1 ] . L' iconoclasme (du grec εικών eikon « icône » et klaô « casser ») est, au sens strict, la destruction délibérée de symboles ou représentations religieuses (appartenant à sa propre culture), généralement pour des motifs religieux ou politiques. Ce courant de pensée rejette la vénération vouée aux représentations du divin , dans les icônes en particulier.
Neon Genesis Evangelion is an anime series created by Gainax . It began broadcasting in Japan on TV Tokyo on October 4, 1995 and ended on March 27, 1996. WOWOW aired the series again during 2003. It was written and directed by Hideaki Anno and produced by Project Eva, which included TV Tokyo and Nihon Ad Systems (NAS).
robotique en jeu_vidéo (japanimation)
1. The holon 1.1 The organism in its structural aspect is not an aggregation of elementary parts, and in its functional aspects not a chain of elementary units of behaviour. 1.2 The organism is to be regarded as a multi-levelled hierarchy of semi-autonomous sub-wholes, branching into sub-wholes of a lower order, and so on. Sub-wholes on any level of the hierarchy are referred to as holons.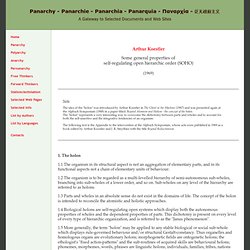 self-regulating (ghost machine)
Holon (Koestler)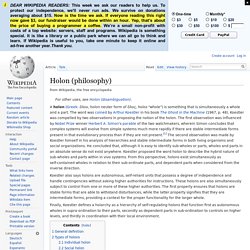 A holon ( Greek : ὅλον, holon neuter form of ὅλος, holos "whole") is something that is simultaneously a whole and a part. The word was coined by Arthur Koestler in his book The Ghost in the Machine (1967, p. 48). Koestler was compelled by two observations in proposing the notion of the holon. The first observation was influenced by Nobel Prize winner Herbert A. Simon 's parable of the two watchmakers, wherein Simon concludes that complex systems will evolve from simple systems much more rapidly if there are stable intermediate forms present in that evolutionary process than if they are not present. [ 1 ] The second observation was made by Koestler himself in his analysis of hierarchies and stable intermediate forms in both living organisms and social organizations.