05-techno
Un article de Wikipédia, l'encyclopédie libre.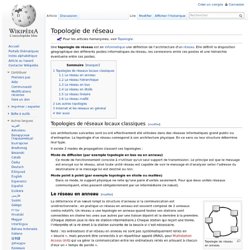 topologie de réseau
weak-strong ties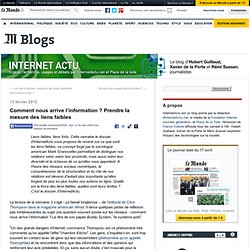 Liens faibles, liens forts. Cette semaine le dossier d'InternetActu vous propose de revenir sur ce que sont les liens faibles, ce concept forgé par le sociologue américain Mark Granovetter permettant de distinguer nos relations selon selon leur proximité, mais aussi selon leur diversité et la richesse de ce qu'elles nous apportent.
haptique (toucher)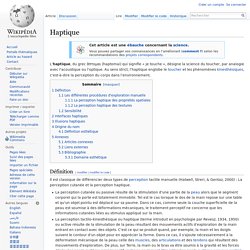 Un article de Wikipédia, l'encyclopédie libre. L' haptique , du grec ἄπτομαι ( haptomai ) qui signifie « je touche », désigne la science du toucher, par analogie avec l'acoustique ou l'optique. Au sens strict, l'haptique englobe le toucher et les phénomènes kinesthésiques , c'est-à-dire la perception du corps dans l'environnement. Définition [ modifier ]
Network topology is the arrangement of the various elements ( links , nodes , etc.) of a computer [ 1 ] [ 2 ] or biological network . [ 3 ] Essentially, it is the topological [ 4 ] structure of a network, and may be depicted physically or logically. Physical topology refers to the placement of the network's various components, including device location and cable installation, while logical topology shows how data flows within a network, regardless of its physical design. Distances between nodes, physical interconnections, transmission rates, and/or signal types may differ between two networks, yet their topologies may be identical. A good example is a local area network (LAN): Any given node in the LAN has one or more physical links to other devices in the network; graphically mapping these links results in a geometric shape that can be used to describe the physical topology of the network.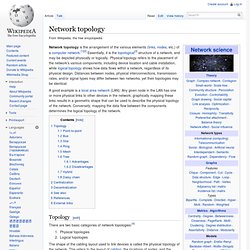 mesh
variété systeme
network topology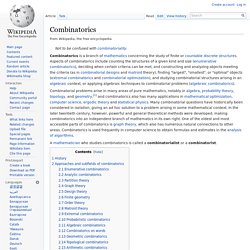 Combinatorics is a branch of mathematics concerning the study of finite or countable discrete structures . Aspects of combinatorics include counting the structures of a given kind and size ( enumerative combinatorics ), deciding when certain criteria can be met, and constructing and analyzing objects meeting the criteria (as in combinatorial designs and matroid theory), finding "largest", "smallest", or "optimal" objects ( extremal combinatorics and combinatorial optimization ), and studying combinatorial structures arising in an algebraic context, or applying algebraic techniques to combinatorial problems ( algebraic combinatorics ). Combinatorial problems arise in many areas of pure mathematics, notably in algebra , probability theory , topology , and geometry , [ 1 ] and combinatorics also has many applications in optimization , computer science , ergodic theory and statistical physics .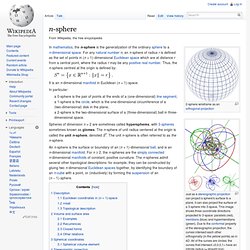 n-sphere
Just as a stereographic projection can project a sphere's surface to a plane, it can also project the surface of a 3-sphere into 3-space. This image shows three coordinate directions projected to 3-space: parallels (red), meridians (blue) and hypermeridians (green).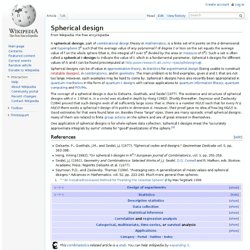 spherical design
A spherical design , part of combinatorial design theory in mathematics , is a finite set of N points on the d -dimensional unit hypersphere S d such that the average value of any polynomial f of degree t or less on the set equals the average value of f on the whole sphere (that is, the integral of f over S d divided by the area or measure of S d ).
copula approach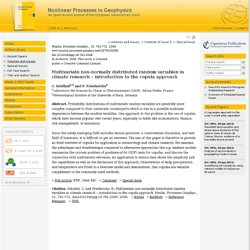 Multivariate non-normally distributed random variables in climate research – introduction to the copula approach C.
copule
Un article de Wikipédia, l'encyclopédie libre.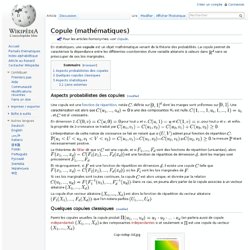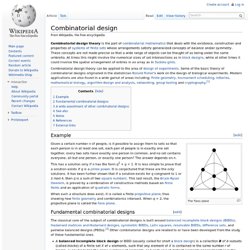 combinatorial design
Combinatorial design theory is the part of combinatorial mathematics that deals with the existence, construction and properties of systems of finite sets whose arrangements satisfy generalized concepts of balance and/or symmetry . These concepts are not made precise so that a wide range of objects can be thought of as being under the same umbrella. At times this might involve the numerical sizes of set intersections as in block designs , while at other times it could involve the spatial arrangement of entries in an array as in Sudoku grids .
In combinatorial mathematics , the Catalan numbers form a sequence of natural numbers that occur in various counting problems , often involving recursively defined objects.
Catalan number
Musical Nodes
Nankai combinatorics
projet "Sphère"
Nebula
bases
Un article de Wikipédia, l'encyclopédie libre.
revêtement
réseau valué
Cancel Edit Delete Preview revert Text of the note (may include Wiki markup )
couleurs
A graph database uses graph structures with nodes, edges, and properties to represent and store data. By definition, a graph database is any storage system that provides index-free adjacency. This means that every element contains a direct pointer to its adjacent element and no index lookups are necessary. General graph databases that can store any graph are distinct from specialized graph databases such as triplestores and network databases . [ edit ] Structure
Data visualisation of a social network
For his final year project in information design, Felix Heinen created an amazing set of visualizations of different aspects of a social network. Two big (200 x 90 cm - 80 x 36 inches) posters show the variety and attitudes of members from an internet community like MySpace. On the first poster you can see the functions used, as well as additional information, such as age, educational background, family status, gender and how often they are logged in.
Seattle Band Map
Weeplaces
Invisible Cities