Fun
Axis of Awesome - 4 Four Chord Song (with song titles)
hang cousins best of hang duo 2009
a Beat Box History of Hip Hop
VIRAL VIDEO SELECTION Big Ups to EKLIPS This is a Commercial. An Amazing, Amazing Commercial. Viral Video is a periodic series we run celebrating music and moving images. Today we give you the most amazing live-recorded television spot ever.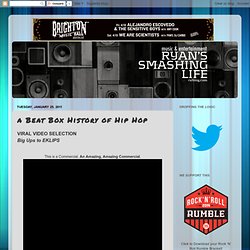 But I am le tired...
Einstein le perroquet
Winning: Just a normal day where every trick attempted goes AMAZING - The...