Fun
Axis of Awesome - 4 Four Chord Song (with song titles)
hang cousins best of hang duo 2009
VIRAL VIDEO SELECTION Big Ups to EKLIPS This is a Commercial. An Amazing, Amazing Commercial. Viral Video is a periodic series we run celebrating music and moving images. Today we give you the most amazing live-recorded television spot ever.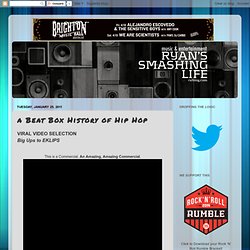 (CBS) - Have you ever tried to throw away a piece of trash by going for a "three-pointer?" Or possibly pass an item to someone by kicking it? Now, imagine what would happen if you did that all day long and every single time it worked out perfectly. That, my friends, is this very cool video in a nutshell.
Winning: Just a normal day where every trick attempted goes AMAZING - The...