Reef
Octocorallia
Octocorallia (also known as Alcyonaria ) is a subclass of Anthozoa comprising ~3,000 species of water-based organisms formed of colonial polyps with 8-fold symmetry. It includes the blue coral , soft corals , sea pens , and gorgonians (sea fans and sea whips) within three orders: Alcyonacea, Helioporacea, and Pennatulacea. [ 1 ] These organisms have an internal skeleton secreted by mesoglea and polyps with eight tentacles and eight mesentaries. As with all Cnidarians these organisms have a complex life cycle including a motile phase when they are considered plankton and later characteristic sessile phase. [ edit ] Biology Octocorals resemble the stony corals in general appearance and in the size of their polyps, but lack the distinctive stony skeleton. Also unlike the stony corals, each polyp has only eight tentacles, each of which is feather-like in shape, with numerous side-branches, or pinnules .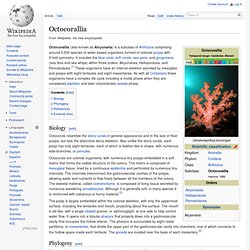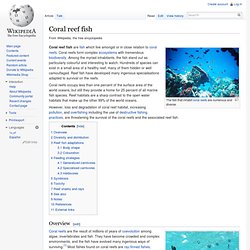 The fish that inhabit coral reefs are numerous and diverse. Coral reef fish are fish which live amongst or in close relation to coral reefs . Coral reefs form complex ecosystems with tremendous biodiversity . Among the myriad inhabitants, the fish stand out as particularly colourful and interesting to watch. Hundreds of species can exist in a small area of a healthy reef, many of them hidden or well camouflaged.
Coral reef fish
Corals are marine animals in class Anthozoa of phylum Cnidaria typically living in compact colonies of many identical individual " polyps ". The group includes the important reef builders that inhabit tropical oceans and secrete calcium carbonate to form a hard skeleton. A coral "head" is a colony of myriad genetically identical polyps. Each polyp is a spineless animal typically only a few millimeters in diameter and a few centimeters in length. A set of tentacles surround a central mouth opening.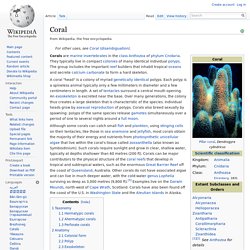 Corals