Useful stuff
- StumbleUpon. Why didn't I think of that?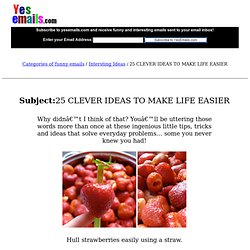 You'll be uttering those words more than once at these ingenious little tips, tricks and ideas that solve everyday problems... some you never knew you had! Hull strawberries easily using a straw. - StumbleUpon. YapTime.com - Where PRIVATE Groups Gather. - StumbleUpon. Muscles are funny things.
They respond to just about any type of training, as long as it's hard and as long as it's not the same damn thing you've always done. That's the beauty of density training: It's a whole lot of stuff you haven't tried yet. And best of all, it'll hit your major muscles in a fraction of the time. 40 Unwritten Rules to Live By. 1.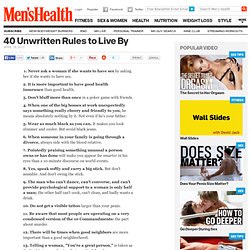 Never ask a woman if she wants to have sex by asking her if she wants to have sex. 2. It is more important to have good health insurance than good health. 3. Don't bluff more than once in a poker game with friends. What Happened On December 1. Did You Know Archive & 10 more interesting facts you probably didn't know. Table of Contents - StumbleUpon.
---