Useful stuff
Why didn't I think of that? You'll be uttering those words more than once at these ingenious little tips, tricks and ideas that solve everyday problems... some you never knew you had! Hull strawberries easily using a straw.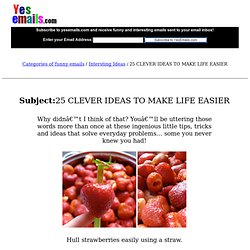 Muscles are funny things. 1. Never ask a woman if she wants to have sex by asking her if she wants to have sex. 2. It is more important to have good health insurance than good health. 3.
What Happened On December 1