GLOBALIZATIONS
Foreign Policy - the global magazine of economics, politics, and ideas.
International jobs
Welcome to UNelections.org | UNelections.org. | WFM-IGP. World Federalist Movement - Institute for Global Policy The World Federalist Movement–Institute for Global Policy (WFM-IGP) works to advance the global promise of peace and is committed to building a safer and more just world.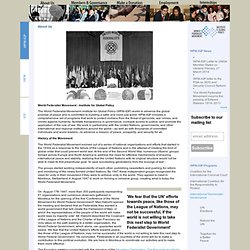 WFM-IGP includes a comprehensive set of programs that work to protect civilians from the threat of genocide, war crimes, and crimes against humanity; facilitate transparency in governance; increase access to justice; and promote the application of the rule of law. We work in partnership with the United Nations, governments, and other international and regional institutions around the globe—as well as with thousands of committed individuals and world leaders—to advance a mission of peace, prosperity, and security for all. History of the Movement.
---