Theatre
This program provides aspiring arts administration professionals with a season-long ten month residency at the Lark. The apprenticeships are designed to serve as a bridge between an educational setting and the professional world by providing firsthand experience in the Lark process, training and experience in arts administration, a greater knowledge of the inner workings of an arts organization and exposure to models of positive, collaborative professionals. Throughout the season apprentices will have the opportunity to attend (approximately) weekly gatherings or workshops with their fellow apprentices and an invited industry guest or Lark staff member as an opportunity to get to know, ask questions and learn from a diverse group of people working in theater. Apprentices will join Lark's tightknit staff (9 full-time, 4 part-time employees) in pursuit of creating a collaborative, safe, and well-resourced environment for nurturing playwrights and plays.
Lark Play Development Center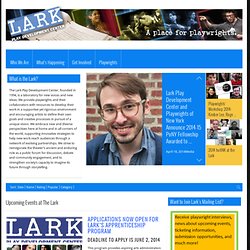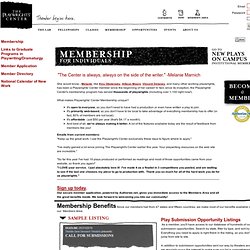 The Playwrights' Center - Membership
Extended Benefits As a member, you'll have access to additional fee-based programs that put the Playwrights' Center's dramaturgical expertise in your hands! Public, Professionally Cast Readings of Your ScriptsMember Stage Readings are an opportunity for Playwrights' Center members to hear their new plays with the support of the Playwrights' Center and our resources. We offer two different types of member readings to best meet your needs and objectives as a writer: one with a dramaturg and one without.