Personal tech
Find YouTube Videos Taken Around Any Location. Would you like to know if there are any videos on YouTube that were taken near your current location?
Try the new Videos Near Me web app. Introducing Videos Near Me , a simple app that will help you discover videos that were captured near a particular geographic location. Free as in awesome: our favorite open source apps for Ubuntu 12.04. Ubuntu 12.04, codenamed Precise Pangolin, was released last week, and I've been updating my Linux boxes to the shiny new version of the operating system.
The upgrade system has gotten a lot smoother in recent years, but I still like to do a fresh installation for each release on my PC and netbook. In this short roundup, I'll look at some great third-party applications that you can get from the Software Center to augment your Ubuntu installation. VMware Player.
Office tools. Storage. Devices. Processors. Dns. Diffbot launches APIs for monitoring web pages. Internet search startup Diffbot launched its API today for visually scanning, parsing and extracting information from web pages.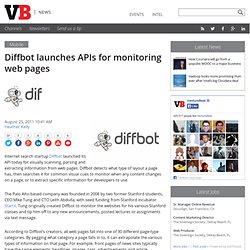 Diffbot detects what type of layout a page has, then searches it for common visual cues to monitor when any content changes on a page, or to extract specific information for developers to use. The Palo Alto-based company was founded in 2008 by two former Stanford students, CEO Mike Tung and CTO Leith Abdulla, with seed funding from Stanford incubator StartX. New BitTorrent client offers truly decentralized P2P. While BitTorrent is the most popular P2P protocol, it still relies on several centralized points for users to find the files they are looking.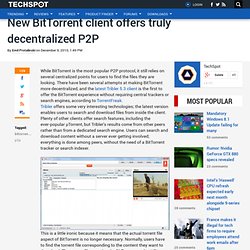 There have been several attempts at making BitTorrent more decentralized, and the latest Tribler 5.3 client is the first to offer the BitTorrent experience without requiring central trackers or search engines, according to TorrentFreak. Tribler offers some very interesting technologies; the latest version enables users to search and download files from inside the client. Plenty of other clients offer search features, including the ever-popular µTorrent, but Tribler's results come from other peers rather than from a dedicated search engine. Users can search and download content without a server ever getting involved; everything is done among peers, without the need of a BitTorrent tracker or search indexer. Publisha - the new way to publish. Talk - Terms. Group conversations are better than ever Send photos or emoji, see when people are engaged in the Hangout and message friends anytime, even if they're not connected right now.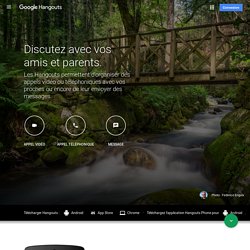 Video calls make Hangouts more fun. At-Home IT Toolkit.
---