Mobile
Appcelerator doubles in size, adds new execs for cross-platform apps. Appcelerator's success is accelerating.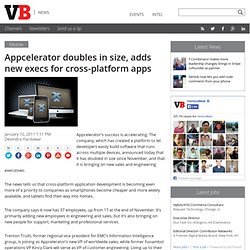 The company, which has created a platform to let developers easily build software that runs across multiple devices, announced today that it has doubled in size since November, and that it is bringing on new sales and engineering executives. The news tells us that cross-platform application development is becoming even more of a priority to companies as smartphones become cheaper and more widely available, and tablets find their way into homes. Appcelerator Titanium mobile apps dev for iPhone & Android & desktop apps for Windows, Mac OS X & Linux from Web technologies.
Open Handset Alliance. Wimax mesh 4g mobile wireless at wi-mesh.org. Bango.com. Five trends driving the mobile web. During the voting process for best mobile company (see our MobileBeat2008 voting page), we started to map the mobile landscape.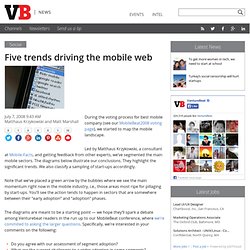 Led by Matthaus Krzykowski, a consultant at Mobile-Facts, and getting feedback from other experts, we've segmented the main mobile sectors. The diagrams below illustrate our conclusions. Mobilytics. Quattro. The Mobile SEO's Guide to Mobile Analytics | Natural Search & Mo. As marketers look to take advantage of the opportunity inherent in mobile search in 2008, many of them are going to be looking to various technologies to help them get mobile faster (mobilizers), track mobile users better (mobile analytics), understand mobile search behavior (mobile keyword research tools), gain link popularity to their mobile sites (mobile directories), and become accessible to mobile search engines and the highest number of mobile users (mobile validators and emulators).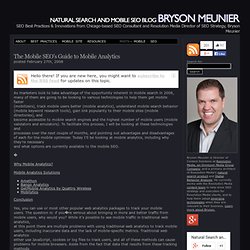 To facilitate this process, I will be looking at these technologies and processes over the next couple of months, and pointing out advantages and disadvantages of each for the mobile optimizer. Today I'll be looking at mobile analytics, including why they're necessary and what options are currently available to the mobile SEO. Amethon Solutions - Mobile web and MMS analytics for mobile oper.
---