Json
JSON and .NET. MSDN Library Articles and Overviews Web Applications (ASP.NET)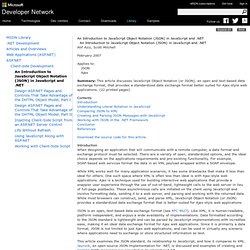 Jansson — C library for working with JSON data. Jansson is a C library for encoding, decoding and manipulating JSON data.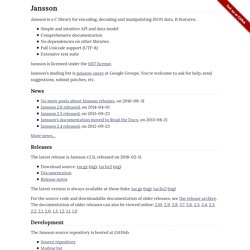 It features: Simple and intuitive API and data model Comprehensive documentation No dependencies on other libraries Full Unicode support (UTF-8) Extensive test suite Jansson is licensed under the MIT license. Jansson's mailing list is jansson-users at Google Groups. You're welcome to ask for help, send suggestions, submit patches, etc. Cson: cson. ACHTUNG: THIS SITE'S ENTIRE WIKI IS NOW MAINTAINED IN THE NEW WIKI: What that means is that the wiki documentation on this site is now considered unmaintained.
However, this site is still cson's home for purposes other than the wiki. cson (pronounced "season") is a C library providing an object-oriented API for working with JSON data. cson is the genetic step-brother (if that makes any sense) of libnosjob, and its overall model is similar to that library's. Code State: seems to work as advertised/documented.
Jehiah/json-c - GitHub. JSON.
---